It is no secret that we are not fans of tomato juice. Consequently, we have never written about that famous classic, the Bloody Mary. Of course, we recognize that many of our readers probably enjoy this morning pick-me-up and it has been somewhat irresponsible to ignore it for so long. We thought it might be time to set aside our foolish challenges and come to the table with a working recipe. And then it hit us: While we may not like tomato juice, we absolutely love pizza! It's a wonder we hadn't thought of this before.
Just in time for spring, and for all of our fellow pizza lovers, we give you the Bloody Mario. No, it has nothing to do with video games or mustachioed plumbers in colorful suspenders. This is an honest cocktail, modeled after the Bloody Mary, but one with more Italian flair, like a slice of pizza in a glass!
To make the drink, you need to start with a some good grappa. This smokey Italian spirit starts life as a byproduct of the wine industry. Fermented grape skins and stems are used to create a clear distillate that is intense and flavorful. Think of it as vodka with some extra oomph. We are going to infuse the grappa with pepperoni. The technique is called fat washing and works nicely with bacon and bourbon. Here, we want the meaty spice of the topping to flavor our grappa base. You could broil your pepperoni slices first if you like a little crispy char. This will help bring out the flavor and make your infusion that much better. Of course, if you prefer sausage to pepperoni, you could use that instead, but then you definitely want to cook the sausage first. Finally, if you are going for a vegetarian option, make a bell pepper infusion, or try black olives, but don't use onions. Onions are horrible on pizza. After a few days or weeks, it should be ready. Just taste as you go until you get the flavor you want.
Bloody Mario
2 oz pepperoni-infused grappa (or your favorite topping)
4 oz pizza sauce
String cheese
Italian bread crumbs

Rim a glass with bread crumbs. Fill with ice and add the grappa and pizza sauce (thinned with water if necessary). Stir to incorporate ingredients, then garnish with a stick of string cheese.

To make the infusion:
Add a handful of pepperoni slices (broiled would be good), or cooked sausage, or chopped bell pepper to a small mason jar. Top with grappa. Cover and allow to macerate for a few days. Taste as you go. When the flavor is good, strain the solids and reserve the infused grappa.
Next, get yourself some pizza sauce. Brands vary. Some are sweet, some are spicy and others have lots of herbs. Again, this is personal preference. Buy what you might use on a homemade pizza. Otherwise, just guess. It will be good either way. If it seems a little thick, you can thin it down with a bit of water, but we will also be adding our base spirit, so a little goes a long way.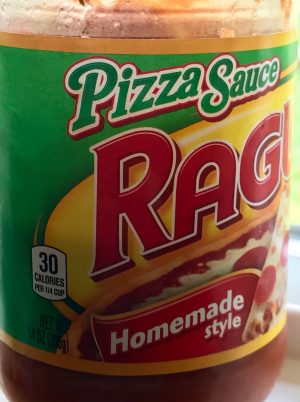 With the topping and the sauce covered, next comes the crust and the cheese. For the crust, get some Italian herbed bread crumbs. Setup your glass with a bowl of bread crumbs and a bowl of water. Dip the glass in the water, then the bread crumbs and get them to cling to the rim of the glass. Keep pushing on as much of the breading as you can make stick to the glass. You can go back to the water if you need more moisture. We find that a soggy bread crumb sticks to glass better than a dry one. If you made a goopy mess, just set it aside and let it dry before use. It will be OK. For the cheese, only mozzarella will do. Get a long stick of string cheese. Easy, right? This will be the primary garnish.
You are now ready to begin assembly. Carefully fill your bread crumb rimmed glass with ice. Add the infused grappa, then the pizza sauce. Give it a good stir to incorporate, then add your string cheese garnish. There's no need to get out of hand here. We have seen some outlandish garnishes on that other cocktail, and it isn't always pretty. If you want to sprinkle some crushed red pepper, or some parmesan cheese that is certainly allowed. You can slip in a couple of pepperoni slices or a black olive if you like. Even a sprig of basil would be appropriate. Remember, it's your pizza. Then, sip and enjoy.