It almost sounds like an irresponsible bad joke to sell cocktails to-go. And yet, that is exactly what is happening in Portland, Oregon and possibly other areas of the country. With COVID raging and businesses failing, restaurant and bar owners have had to get creative with their space to accommodate safe social distancing or establish outdoor seating. It has not been easy, and not all establishments are able to make it work while decreased liquor sales really hurts the bottom line. Some businesses have pushed for eight months to change laws and even threatened to ignore them so that they can sell cocktails to-go. Amazingly, Oregon state government approved a temporary update to the law allowing it right before New Years Eve, and we are seeing the results.
The to-go option is recognition that citizens and business can be responsible in this regard, and after participating in this strange new business model, it does not feel like a joke at all. Of course, it is not like picking up coffee from a drive-through—there are a few rules. Cocktails to-go have to accompany a food order, there are limits to the number and size of the drinks, and they must be sealed and labeled appropriately.
We decided to support one of our favorite local bars, Hale Pele. Looking back to our first visit during their grand opening and reminiscing about all of the times we have enjoyed the place since, we admitted nothing quite compares to the in-person ambiance and full-on tiki experience you can only have when you go there—but we wanted to do what we could to help sustain one of the most unique places to enjoy cocktails in Portland. Nothing quite compares to an evening of historic Tiki. Their dedication to quality ingredients and the authentic mid-century Polynesian aesthetic is worth preserving, even if it means we have to wait a while to be seated amongst the wood carvings and bamboo rain forest atmosphere (yes, they even have thunder and lightning).
We picked our cocktails without even looking at the impressive menu. We then placed an order online for the Leilani Volcano and the Jet Pilot—two historically accurate features we almost always order whenever we have visited in the past. Both are complex rum recipes with lots of ingredients exotic fruit juice or multiple base spirits. Even though we had to drive across town to pickup our order, we made the round trip in about 15 minutes. Incredibly, we don't think we could have executed a pair of either of these recipes at home in that time!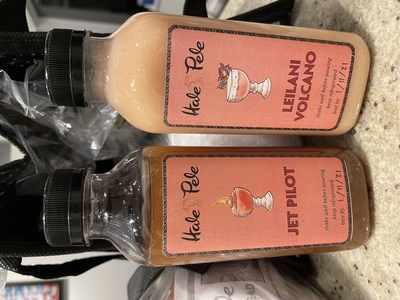 We also added a big bag of crushed ice to our order. Hale Pele has fantastic pebble ice that is perfect for so many tiki recipes, and for just a dollar, you can take some home in a bag big enough fill your own goblets and then some. This makes so much sense and serves to keep the drink bottles cold during transport. Upon our return, we filled two snifters with the ice, gave our cocktail bottle a shake (each container holds two drinks that are pre-chilled and pre-diluted) and poured it in.
We started with the Leilani Volcano which is predominantly guava, pineapple and coconut. This was about the easiest Tiki cocktail we have ever made! It was strictly BYOG (Bring Your Own Gardenia—er, ah Garnish) but we were thirsty and impatient, opting for straws only. The flavors were spot-on, and we have come to expect nothing less. Our second round was the Jet Pilot which packs a wallop with its cinnamon-heavy Zombie-like flavor profile. It was historically served in mid-sized tumblers, and we had more cocktail than glass volume for this one which we garnished with a big fat cinnamon stick. In some respects, cocktails like this leave us happy we are already at home!
The Hale Pele pork sandwich is tasty and we wish we had ordered more. The sweet Hawaiian bread slices are always a hit at the bar and you can smell the grilled butter from across the room. They were easy to prepare and the mango jam was delightful. All told, this easy pickup meal was worth the effort and we felt good about helping our favorite tiki bar. Time will tell how long cocktails to-go is sustained, but if you have the means, we do suggest taking advantage of this unique opportunity. We also wholeheartedly recommend Hale Pale if you are looking for something unique, safe, fast and delicious!