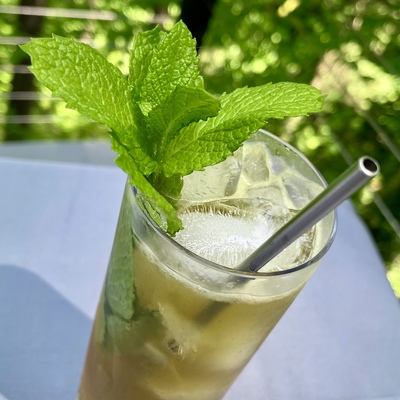 At the end of last summer we had an abundance of mint thriving in our planter box. Knowing it would not survive the cold rainy season in Oregon, we harvested all of it at once and made mint syrup. Infused syrups are easy, but many turn brown. The best way to preserve the color of herbs when making a syrup is to blanch the sprigs. Dunk them into boiling water for fifteen seconds or so, then plunge them into ice water. This locks in the color without disturbing the flavor. You can then toss them into a blender with simple syrup and strain the result. What you get is an emerald green syrup with a lovely mint flavor that can be stored practically indefinitely in the freezer.
We intended to use our syrup to make Juleps and Mojitos all winter long, but we sorta forgot about it. With a new summer upon us and fresh mint available now, we started looking for a new cocktail that can use it and found the Albra recipe. This was one we squirreled away several years ago after it appeared in Imbibe Magazine back in 2015. The drink was created by Alex Straus at Grandpa Johnson's in Hollywood (now closed). In addition to using mint syrup, it also uses tonic—a nice bonus if you happen to make your own.
Albra
1.5 oz vodka
1 oz Cynar
1 oz lemon juice
.5 oz mint syrup
1.5 oz tonic

Add all but the tonic to a shaker with ice. Shake to chill, then strain into a Collins glass over fresh ice. Top with tonic and garnish with a sprig of mint.
Alex had a straightforward method for making his mint syrup. He would steep a handful of mint leaves with a cup of 2:1 rich simple syrup in a saucepan over medium heat until the leaves wilted. Easy, right? It only lasts a couple of weeks and is not going to win any awards for color like the blanched and blended method but it works and has great flavor.
If you use your own tonic like we do, you already understand that house tonic is typically in syrup form which you can add an appropriate amount to the shaker and top the final pour with carbonated water. Otherwise, top this drink with your favorite tonic and give it a couple dips of the bar spoon to incorporate but not dissipate the bubbles.
This drink is notable for a few reasons. First, it is vodka-based. We don't feature many vodka drinks, so it is nice to add another to the repertoire. Second, finding a delicious use for homemade mint syrup and tonic is great. It means we can continue to justify our tonic syrup taking up space in the refrigerator door. Finally, it uses Cynar, a favorite amaro in our house. Cynar is about as sweet as it is bitter, so adding a little tonic helps augment the sugar, even though it is mostly balanced by the lemon. This drink reminds us of the flavorful Take 3 cocktail, only instead of elderflower, we have mint. Both are refreshing summer highballs with the Albra being the lighter of the two, even though it probably contains more alcohol. We will definitely be making more of these.