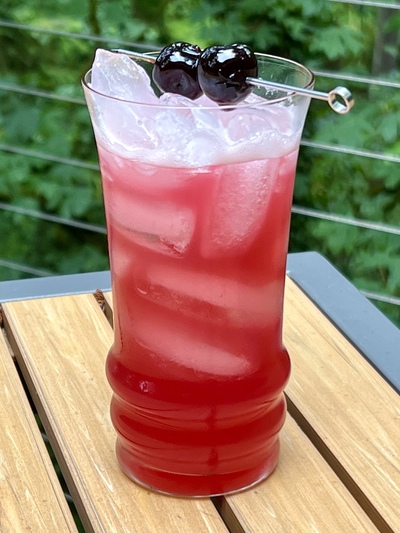 Yesterday, we mixed a highball from the most recent July/August 2022 issue of Imbibe Magazine. Today, we wanted to try another, and to our delight, this one is non-alcoholic. Drinks without alcohol are featured infrequently on Summit Sips which shouldn't be too surprising, but we have a growing interest in improving our skills in this category. The need for alternatives to booze should be obvious, and given how we like sharing unique flavors, ingredients and techniques to make delicious beverages, we never want to add unnecessary social pressure to anyone who does not or cannot drink alcohol. Building a repertoire of fun, dry alternatives allows every guest to make their own special drink selection and not feel left out of the conversation and experience.
The Neruda was created by Marina Markovic of Lore, Brooklyn, NY. The beauty of this drink (besides actually looking beautiful) is the use of basic home bar ingredients, each of which we have written about in the past. Many attempts to make something alcohol-free that can still stand up to spiritous selections can seem over-reaching, with special juices or unusual flavors that may not be useful in other drinks. The Neruda is convenient because you might already have these ingredients, and the result still packs a ton of flavor.
Neruda by Marina Markovic
1 oz grenadine
.75 oz lime juice
.5 oz cinnamon syrup
Club Soda

Shake the first three ingredients with ice to chill and pour into a tall glass. Add additional ice and top with sparkling water. Garnish with cocktail cherries.
We used homemade grenadine, of course. If you are not making your own (it's easy), use a decent brand made with real pomegranate and cane sugar. Good grenadine also has orange blossom (or rose) water to give it a wonderful aromatic touch which really comes out in this drink. For the lime juice, this should be fresh-squeezed, unless you have started making Super Juice which is even better. We used our super juice oleo citrate from last week's batch and the lime flavor is incredible. The last main ingredient is cinnamon syrup which comes in handy for a variety of tiki drinks. It also seems to be self-preserving, so it should last a long time.
We plan to add an NA section to our house menu, and when we do, the Neruda will be at the top of that list!