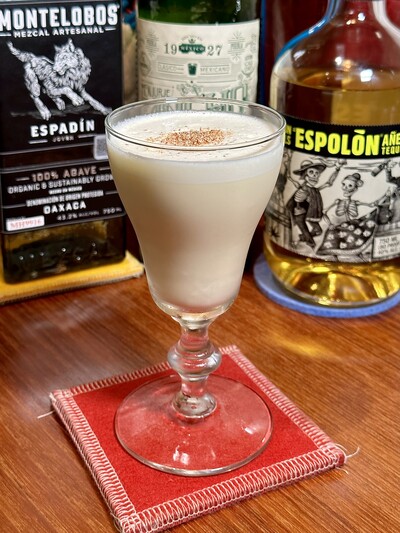 It's hard to believe that eight years have passed since we originally wrote about Egg Nog. Holiday seasons have come and gone and we have repeatedly executed that original recipe with great success. While we still remain somewhat skeptical of whole egg drinks on bar menus, we have come to appreicate what is possible with Nog. This season, we considered making it again before we realized—we never made the version Jeffery Morgenthaler is famous for—Tequila-Sherry Egg Nog.
Egg Nog is a "flip" style cocktail—a category characterized by the use of eggs. Generally, flips are rich, dairy, custard-like beverages, and Egg Nog is a widely-recognized example that tends to get served during the holidays. You can buy a non-alcoholic version at the grocery store, but traditional homemade nog is much better. One of the joys of mixology is the art of experimentation, but we see no reason for trial and error when someone else has done most of the heavy lifting. As before, we will lean on the expert work of Mr. Morgenthaler.
Tequlia-Sherry Egg Nog by Jeffery Morgenthaler
2 large eggs
3 oz superfine or baker's sugar
2 oz añejo tequila
2.5 oz Amontillado sherry
6 oz whole milk
4 oz heavy cream

Beat eggs in a basic blender for one minute on medium speed (or pulse commercial blenders at the lowest setting for a few moments to mix the ingredients). Slowly add sugar and blend for one additional minute (again, don't over do it with commercial blenders). With blender still running (or not, depending on your equipment), add tequila, sherry, milk and cream until combined. Chill thoroughly to allow flavors to combine. Serve in chilled wine glasses or coupes. Garnish with fresh grated nutmeg.
Morgenthaler has described this as a twist on the classic holiday beverage—a version he created in the early days of Clyde Common. It became so popular that it now appears in the New York Times cookbook as well as his own Bar Book. If you have ever made homemade egg nog, tequila probably sounds unorthodox, while sherry is more common here. But, with a really nice añejo, sherry and tequila can be as deep and complex as any good brandy or cognac. We used Espolòn Añejo which was an excellent choice, as this spirit is buttery-smooth with notes of vanilla and caramel. The sherry should be an Amontillado style which gives the recipe a nuttiness that works so well, but we already had a bottle of Olroso open which is an excellent sub with similar, if not deeper dry, nutty flavor. The overall proportions keep everything from becoming too thick, and the fresh-grated nutmeg on top should be considered compulsory for the incredible aroma and flavor it brings.
This recipe fits nicely into a quart mason jar—enough for several small glasses—but it is so good that guests will want to have seconds. So, if you are having a few guests, we recommend doubling it, or multiply everything by six to make a gallon to share. We were feeling a little adventurous, so we decided to try some additional options, spiking our second and third glasses with a splash of Montelobos Mezcal for a hint of smoke, followed by Ancho Reyes Verde for a spicy herbaceous twist. Both are excellent ways to make an already delicious Egg Nog stand out even more! Cheers, and Happy Holidays.