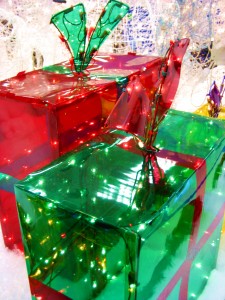 It's time of the year when everyone is expected to exchange gifts. Whether or not you enjoy the holiday season there is one thing most of us agree upon: how frustrating it can be to try to come up with good gift ideas. Sure, there's amazing and expensive technology out there with plenty of fun gadgets that will be obsolete by this time next year, but how about a more traditional approach? Why not give a gift that will inspire or will teach, or will assist? We're talking about useful gifts for the mixologist in your family.
A Shopping List
We've written before about using good tools and technique with an emphasis on making the most of what you already own. That's fine for the rest of the year, but this is the perfect time to consider items that can help elevate your mixologist's skills and abilities so they (and you) can enjoy even better cocktails in the coming year. These suggestions are in no particular order, and some of the best resources for buying these items are listed at the end:
Boston Shaker – It has to be the most useful tool for the home imbiber. The Boston Shaker is what almost every professional bartender uses to mix cocktails. It's comprised of a large, 28 ounce metal tin and a 16 ounce pint glass. This simple tool will have your mixologist shaking in no time! They are easy to clean and usually very inexpensive. What's that you say? They already have a 3-piece (cobbler style) cocktail shaker? Get them a Boston Shaker anyway. They will be glad you did. A 3-piece shaker might look convenient, but they are messy, they don't seal (or don't come apart!) and they are often just more clumsy than they need to be. Since the Boston Shaker is so cheap, you'll want to add:
Strainer – There are several kinds including 2-prong and 4-prong Hawthorne strainers (the kind with the spring), and julep strainers. These inexpensive tools are indispensable when using a Boston Shaker to filter out the ice allowing your mixologist to pour cocktails like a pro. Even if they already have a Hawthorne, chances are they don't have a julep strainer. A julep strainer is basically a large oval spoon with holes in it. It is used inside a mixing glass where it fits down into the mouth of the glass at an angle and holds back ice that was used to stir and chill a cocktail. Remember, an all-spirit cocktail like a martini or a manhattan likes to be stirred, and a julep strainer is the best way to pour it cleanly into a chilled glass.
Tovolo Ice Trays – Perfectly square ice cubes are all the rage. They look great, they work well in a shaker, and they melt slower than refrigerator crescent-shaped ice-maker ice. The best bars use Kold-Draft ice makers which produce large, perfectly clear cubes, but you can get really close with Tovolo silicone ice trays. We use them ourselves. They make more efficient use of your freezer space, they are easy to remove individual cubes, you won't crack them "twisting", and the ice will melt slower and looks gorgeous in the glass. Speaking of glasses:
Coupes, cups, and mugs – The exciting resurgence of cocktails has brought back a lot of traditions. One of them is the use of the cocktail coupe, an elegantly styled glass that looks like a champagne saucer. While they are not quite as common as the v-shaped martini glasses you see everywhere, they are making a strong comeback. They are also petite. The days of the huge cocktail glass are behind us. Quality is replacing quantity. Specialty glasses also make great gifts. Sometimes a certain drink calls for a specific serving vessel. The Moscow Mule, for example likes to be served in a copper mug, and the Mint Julep works best in a silver cup. We have collected barware for years and decided to start selling our treasures in the Summit Sips Shop
Books – It sounds like a gift cliche, but the right cocktail book will do more for your mixologist than any tool. Understanding the classics and having experience with original recipes from their historical context is the best way to understand spirits, modifiers and mixers as well as how to use them to make more contemporary concoctions.We recommend Several excellent examples in our books section of recommendations. Purchasing through our affiliate links helps support the site!
Measuring Cup or Jiggers – Consistency and quality both require proper measurements. Not everyone can free-pour with precision, and even top bartenders measure everything they create. Your mixologist should too, and to help them do it, We recommend the OXO Mini, a slick measuring cup that comes in both plastic and stainless steel. The plastic measurement marks are easier to see than those on the stainless version, but either will make a perfect gift for your mixologist. Jiggers are great too, but we like the convenience of using a single tool to measure everything rather than a drawer full of jiggers.
Muddler – Every mixologist will eventually need a good muddler. Taller is always better. You don't want to hit your knuckles on the rim of a glass or metal mixing tin. Sure, you can use the handle of a spoon, or even a few chopsticks held in a bundle, but having a nice muddler is going to make it that much easier to get consistent results out of herbs, berries and citrus.
Ask for suggestions – Honestly, this list could go on forever! If you don't see any ideas here or you want spend a bit more money, leave a comment or send me a note. I know I can come up with plenty of suggestions even if you think your mixologist seems to have everything.
Where To Buy
One of the most convenient places we have found to buy gifts is Amazon.com. Being that Summit Sips is an online resource, it only makes sense that we would direct you to an online retailer. In order to make this easier, we have done all of the research for you. We have a list of linked products we recommend. You may have also noticed the Shop link in the menu bar here which brings you to our own inventory items we are making available.
Buying from Amazon or grabbing something unusual directly from us is only the start. You can find great ideas on sites like Barsupplies.com, Kegworks.com, Cocktailkingdom.com or just about any restaurant supply store. Finally, every mixologist loves to have good ingredients, so even your local liquor store can be an excellent resource!