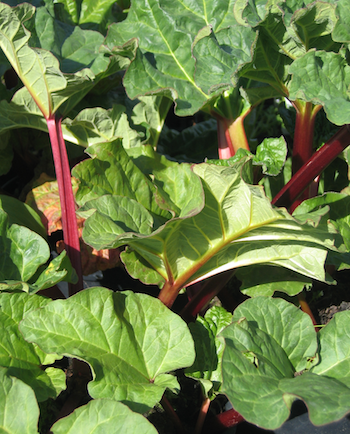 Last year we infused some vodka with rhubarb and it turned out so good that it was gone too quickly. In fact, this was the fastest we went through an infusion ever. We've done everything from chili peppers and pineapple to coffee and vanilla, but the rhubarb is our favorite. This year, we decided to try it again and let it go a little longer to see how the flavor intensified. It turns out that the flavor of rhubarb develops very quickly and after only one day you can see a its gorgeous pink tint and smell the effects. This time we let it sit over the long holiday weekend, and we have another winner!
Infusing vodka is about the easiest mixology adventure you can take, and a great way to get started thinking about the flavors you can achieve in a cocktail. To do rhubarb, simply slice the stalks lengthwise so they can easily fit into a bottle. Then, chop the strips into pieces just a couple inches long. It doesn't take much. Perhaps just two stalks cut in this manner is plenty to flavor a bottle of vodka. Drop the pieces into a clean bottle and fill it up with a decent vodka. There's no need to break the bank on this, but don't use the cheapest stuff either.
After a few days, it's ready to stop the process. Pour the contents through a fine mesh sieve or a coffee filter to get it nice and clean. You can put it right back in the bottle, or transfer it to something decorative. It's up to you, but it won't much matter because it's not going to last very long!
Rhubarb vodka is pretty good all by itself, but you can make a lot of great cocktails too. Start with any recipe that uses vodka for a nice rhubarb twist. Or, start with a basic recipe. You could try combining a couple ounces with a dash of lime juice, shake it with ice and strain into a cocktail glass—simple, but effective. Consider what you like to eat that has rhubarb to get some ideas. How about this: muddle a few strawberries with a pinch of cinnamon, a teaspoon or two of sugar (or simple syrup) and then add a couple ounces or more of the rhubarb vodka. Again, shake with ice, strain and serve up. It's like a strawberry rhubarb dessert in a glass!
Tonight we took our rhubarb vodka and made a Cherry Rhubarb Sour. It was fantastic:
Cherry Rhubarb Sour
2 ounces rhubarb-infused vodka
.75 ounce lemon juice
.5 ounce Luxardo Maraschino Liqueur
.25 ounce simple syrup (1:1)
.5 ounce egg white

Add all ingredients to a shaker and shake very hard without ice. Open the shaker, add 5 large ice cubes, reseal and shake until your arm is tired. Strain into a chilled cocktail glass. The best foam will appear at the end of the pour, so make sure you wait for that. Garnish with several drops of Angostura Bitters (or cherry bitter if you have some) on the top of the foam.
EDIT: For an alternative cocktail that is also excellent, give the Strawberry Barb a try. It's our go-to drink now whenever we have rhubarb vodka!