A few weeks ago we had an opportunity to zip over to the Wine Thief where Bittercube, the award-winnng mixology duo Ira Koplowitz and Nick Kosevich, were presenting their new line of cocktail bitters. It was nice to see Nick in action, as it had been a long time since we had seen him while he was still at the Town Talk Diner. We didn't figure he would remember us but we sure remember those cocktails! Of course, this wasn't a social visit—we were there to try some new Bittercube Bitters.
When it comes to cocktail bitters, most people recognize Angostura even if they aren't sure what to do with it. Better bars might also have Peychaud's which could mean they know how to make a Sazerac. Next on the list is probably some version of orange bitters, although this product was practically non-existent not that many years ago. Today, Fee Brothers is getting their bottles on liquor store shelves, and depending on where you live, you can probably name a few other brands.
Times are changing quickly, and several enterprising folks are even whipping up batches of homemade cocktail bitters. The possibilities for the home mixologist and the professional are growing, but not everyone wants to hunt down all of the odd herbs and spices to make a gallon of something you dole out in dashes. So, when we heard Nick had teamed up with Ira from The Violet Hour to create local line of hand-crafted cocktail bitters, all we needed to know was where we could score some.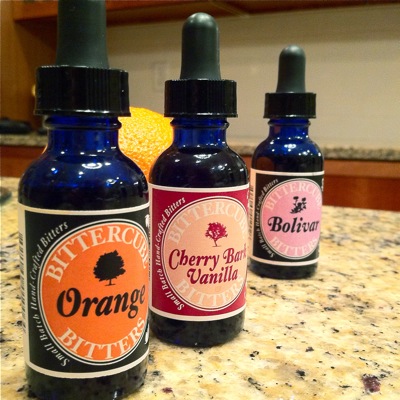 When we arrived, a small crowd had gathered around the sampling table in the back of the shop. Nick and Ira where explaining each style, from their Bolivar aromatic to the unique Cherry Bark Vanilla. All told, Bittercube has six different styles of bitters plus limited edition batches. They even contract their creative services to make custom bitters for bars and restaurants.
Nick demonstated how to sample the different flavors. First, place a drop in your hands and rub them together to evaporate the alcohol. Then, cup your hands over your nose and take in the intense aromas. Bitters aren't meant to make a drink taste bitter. They provide an intense flavor boost and serve to draw ingredients together or to bring out certain aspects of a cocktail's flavor. The classic effect is that you may not immediately notice that bitters are present in a cocktail, but you definitely notice when they are not.
To complete the tasting, we tried some delicious sample cocktails featuring Bittercube bitters and even talked about using bitters in beer! In the end, we grabbed three, and would have bought them all, but our collection of little bottles is getting a bit out of hand. Instead of the typical woozy dashers, Bittercube comes in small, cobalt blue eye-dropper bottles. This is perfect for us since we put all of our bitters into such bottles anyway.