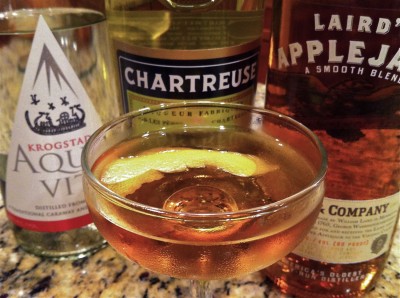 The first good sign of a decent cocktail bar is that they are using fresh ingredients. We're not talking about lemon twists or lime wedges—we mean that they squeeze their fruit to make juice à la minute, and that they aren't using sour mix. But even if they take the time to use fresh citrus, it doesn't mean they know how to balance a drink. This is when a spirit-driven cocktail can save the day. A quick scan of the back bar may help you pick a winner without asking your bartender if they have this, that or the other thing. Of course, not all good drinks require obscure ingredients, but every once in a while you have to be willing to gather what you need yourself.
There are a few good bars in town that could make our drink of the week with what they have. No problem. They don't even need fresh juice. In fact, some of them probably know the recipe already. Yet, if you are trying this at home, you might need to pick up a few things. It has taken us over a year to collect everything needed to make this drink. That's not to say that any of it is hard to find—we just stock the cabinet slowly over time. All of the items listed here are ages old. They all have history that can be counted in centuries. With that said, this cocktail has only been around for a year!
Norwegian Wood
1 oz aquavit
1 oz applejack
.75 oz sweet vermouth
.25 oz Yellow Chartreuse
1 dash Angostura Bitters

Add all of the ingredients to a mixing glass with ice and stir to chill. Strain into a chilled cocktail glass and garnish with a large twist of lemon peel.
The recipe above appeared on Jeffery Morgenthaler's blog in June 2009. His contribution to mixology goes way beyond this simple recipe, and his Norwegian Wood has already become a modern classic. As the story goes, he was challenged by an alcohol rep to create something with aquavit. It turned out so good, he featured it at Clyde Common and named it after his favorite Beatles song! If you aren't familiar with aquavit, it's a Scandinavian spirit akin to vodka flavored with caraway seeds and anise. Needless to say, it's not exactly known for its mixability. Despite the challenge, he came up with this, and it's a triumph.
Aquavit is pretty easy to find, and there are often a couple of brands to choose from. We brought Krogstad home from House Spirits in Portland. Applejack which was featured in the Jack Rose is not as common, but you should be able to track it down. It has a history in the United States as old as the country itself. Sweet vermouth is everywhere, but Yellow Chartreuse, on the other hand, is the most elusive of these items. It's around, but it isn't as common as its green-tinted brother.
Ok, so here's the deal. Aquavit tastes like a slice of fresh rye bread, and we all know how apples taste. The vermouth is detectable, but in this cocktail it serves to deepen the herbal notes from the Chartreuse. Green Chartreuse has a powerful flavor, but the Yellow variety used here is toned down a bit, and although we know it might be our imagination, it always reminds us of honey for some reason. Anyway, wrap all of those flavors together and top it off with Angostura spices and lemon oil and you have a delightful sipper. Give this one a try, even if it takes you a year to gather everything you need.