It's easy to find inspiration in cocktail books or to look at other websites for ideas, but nothing quite compares to the sights, sounds and flavors of a working bar or restaurant. It affords you the opportunity to try something new and to sample ingredients you might not own. Since we happen to be traveling this week, we sought assistance from professionals for the Drink of the Week and we are pleased to share my experience from here in Portland, Oregon.
You may recall last year during a visit to the City of Roses (Bridges, Mountains, Cocktails, etc.) we had the chance to try a barrel-aged libation. This year, we set our sights on the Southeast side and made our way to Beaker & Flask. We sat at the end of the bar and ordered our first round from the menu. Our first selections included the Fortunate Son, a highball with Fernet Branca and something called the White Overalls, a rye cocktail with honeyed Campari. Both were absolutely delicious, but we needed a suggestion for the Drink of the Week. When we described this weekly column to our bartender, Emily, she seemed intrigued and consulted with James. After a few introductions, they agreed to share a drink with Summit Sips readers that was created by the bar's owner, Kevin Ludwig. When James explained that it was a riff on a classic Negroni, how could we resist? It was as if they had been reading Summit Sips for years and played directly to our tastes.
Norwegian Negroni by Kevin Ludwig
1.5 oz aquavit
1 oz Cocchi Vermouth
1 oz Cynar

Stir with ice, then strain into a chilled cocktail glass. Garnish with a twist of orange peel.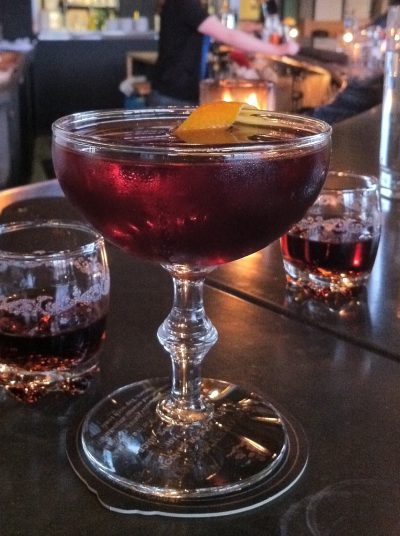 Like the Trident cocktail, this drink also features Aquavit, a caraway and anise spirit. In this case, Krogstad was used which is a local spirit made at House Spirits Distillery less than a mile down the street! Last year, we visited House Spirits and stuffed a bottle of Krogstad into our suitcase.
In addition to swapping out gin for aquavit, the Norwegian Negroni uses Cynar instead of Campari. We love Cynar, so naturally, we exploit every opportunity to try it in a cocktail. Rounding out the main ingredients is the newly-imported Cocchi Vermouth di Torino. Cocchi is a sweet vermouth made using an original 1891 recipe that is definitely a notch above most red vermouths. It lacks the vanilla addition of Carpano Antica Formula, but retains bold flavors of cocoa, citrus and rhubarb. It pairs beautifully with Cynar and stands up to the intensity of the aquavit.
You might think all of these bold flavors would compete for your attention, but we found this cocktail balanced and delicious. Like a good Negroni where gin helps the sweet and bitter flavors sing, this version comes with a surprise finish when you are rewarded with a touch of caraway.
With Cocchi vermouth just starting to appear in many markets, we asked James if the cocktail would work with substitutions. Certainly, Carpano Antica could be employed, though the added vanilla flavors will change the outcome slightly. He suggested Punt E Mes, a bold but bitter vermouth that might also work, but after enjoying the cocktail as-is, we'll definitely be looking for Cocchi on store shelves at home.
As much as we like featuring fantastic drinks each week, it's so rewarding to write about a cocktail experience and to feature a recipe created by a local professional that you can also make at home. We also can't help passing along a wholehearted recommendation for Beaker & Flask. Not only did we enjoy a wonderful evening of cocktails and discussion with our friendly bartender, we were completely blown away by the food we devoured as we watched and listened. At one point we announced that we were going to be long-distance "regulars" with plans to return on future visits to Portland. (EDIT: We live in Portland now, but sadly, Beaker & Flask is closed). By extension, you too should should consider yourself invited to share the wonders and surprises offered at Beaker & Flask. (We hope you had the chance to do so!)
In addition to the Norwegian Negroni, Emily treated us to an exciting original cocktail of her own design called the Mexican Circus Tiger, but that's a story for the next post. . .