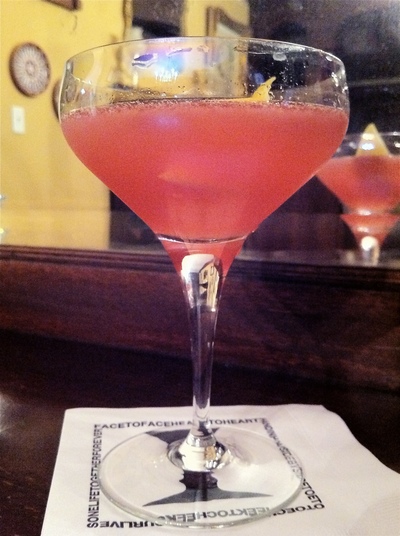 This weekend is Repeal Day, the anniversary of the 21st Amendment to the US Constitution which ended Prohibition. Since the day is not quite upon us, we thought we would feature a cocktail that became prominent during Prohibition, or you might say because of prohibition. The name refers to the limit of a country's sovereignty along its sea borders. In other words, in order to escape US jurisdiction (and Prohibition), would-be drinkers had to travel twelve nautical miles away from the coastline in order to enjoy their favorite cocktail.
Like the Scofflaw, this Drink of the Week pokes fun at our "Noble Experiment", but in this case, it's more than just words. At the time, since it was not illegal to drink alcohol, only to manufacture, sell and transport it, anyone with a boat could head a mere three miles out, buy whatever they wanted and drink it on the way back. This led to extending enforcement to twelve miles, which was about the distance a steamer could travel in an hour. Few people had access to such vessels. It turns out, there was also a Three Mile cocktail upon which this one is loosely based.
Twelve Mile Limit
1 oz white rum
.5 oz rye whiskey
.5 oz brandy
.5 oz lemon juice
.5 oz grenadine

Shake ingredients over ice, strain into a chilled cocktail glass and garnish with a lemon twist.
Not surprisingly, this drink carries a bold and spiritous flavor that is somewhat luxurious on the tongue. To us, the combination of three base spirits with homemade grenadine is like nibbling on good, fruit-forward dark chocolate. That probably sounds ridiculous because it's not exactly the best way to describe the flavors, but it's hard to convey how the rum, rye and brandy mingle with the grenadine. You can identify each element, but we think this is one of those instances where the whole is better than just the sum of the parts. The lemon keeps it from tasting too sweet, but this is definitely a treat. It's also a great chance to use your own homemade grenadine. If you haven't made grenadine yet, here's another excuse to do so. You might even be able to find a few pomegranates in supermarkets right now. This drink's predecessor, the Three Mile cocktail basically drops the rye and reverses the proportions of rum and brandy while reducing the lemon and grenadine. It's probably a stronger drink, but it's not as flavorful.
Thankfully, we no longer have to head out to sea to taste this drink, so after you mix one to celebrate Repeal Day this weekend, let us know what you think of it.