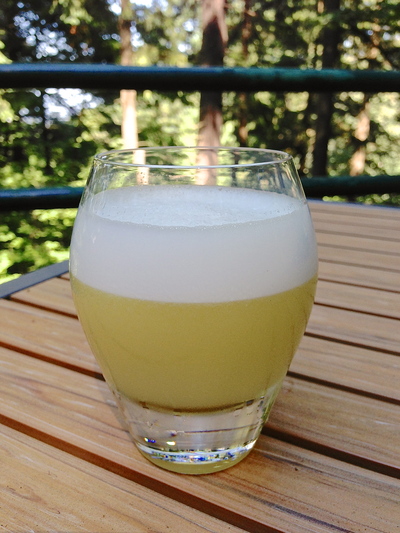 Over the past couple of years we have listed some of the best places in the Twin Cities to get a great cocktail. Although we firmly believe that the top of that list should be your very own home, it's not always convenient to invite friends over or to make drinks for large groups. Knowing how to make a few great recipes is one thing, but having all of the ingredients to make anything or to try something new is something else. Even the best home bartender can learn a lot by watching the experts. It's also nice to have someone else take care of everything for you from start to finish. Although such places don't always last forever, a professional commitment to skillfully crafted drinks seems to be a growing trend, not just in the Twin Cities, but everywhere.
This week, we'd like to feature Pip Hanson's Oliveto cocktail, a popular drink on the menu at Marvel Bar that gained national visibility when it appeared on the Imbibe Magazine blog. Marvel Bar was also featured in the September/October issue. If you happen to live in the area or plan on visiting Minneapolis, this North Loop hot spot is definitely worth your while.
Marvel Bar is probably the closest thing we have to a speakeasy in the Twin Cities, but the décor is far from Prohibition-era nostalgia. Situated underneath The Bachelor Farmer restaurant in the basement of a late 1800's brick-and-timber warehouse, you must enter through an unmarked back door. You then make your way down a hallway of storage rooms until you reach the purple door. Once inside, find a seat at the bar or be seated at an arrangement of lounge furniture and tables. Exposed limestone is accented by splashes of color and glass to provide an overall look of ultra-modern "controlled chaos". It sounds odd, but the feel of the place works very well as a backdrop to the unmatched cocktails here. We also liked the simple contrast of a white marble bar and the tools of the trade hanging on the back wall from handyman pegboard!
Oliveto
by Pip Hanson, Marvel Bar, Minneapolis
2 oz dry gin
1 oz fresh lemon juice
.25 oz rich simple syrup (2:1)
.25 oz Licor 43
.5 oz extra-virgin olive oil
1 egg white

Combine ingredients, shake without ice to emulsify egg white and olive oil. Add ice, shake vigorously for 20 seconds and strain into a chilled glass.
The Oliveto is a gin sour variation that steps it up a few notches and actually tastes like lemon meringue pie. First, Hanson uses Almazara Perales olive oil from Spain alongside the egg white to create a smooth silky texture. The full-bodied oil also helps the egg white protein build a lovely froth on the surface. Second, Licor 43 adds vanilla to the sweet and sour formula which in this case works wonders when it meets the base spirit. Patrons Marvel at this concoction for good reason!
During our visit to Marvel Bar a few weeks ago we also tried the Oakenshield, a dark Scotch-based cocktail that manages to be sweet, savory and deeply heartwarming as though inspired by the torch-lit mountain king halls of Middle Earth. In contrast, the Borealis cocktail with its multi-dimensional effect of swirling luster dust appeared like a gift from heaven. With such awesome originals, a hand chipped ice program and impeccable classics, Marvel Bar has something for everyone.