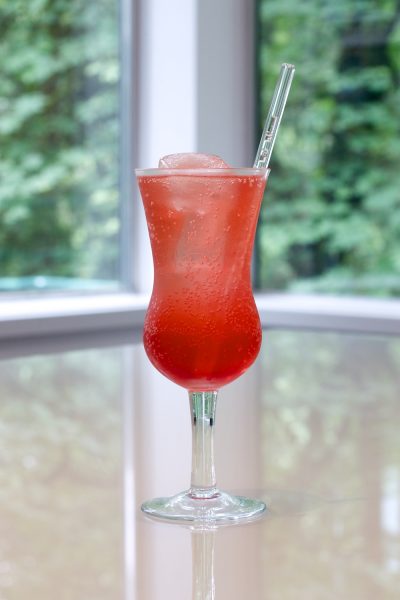 The concept of balancing sweet with sour in cocktails has been around for a very long time. Most of us associate lemons and limes with the acid side of that formula, but there are more ways than citrus to add sour to beverages. One solution common in the culinary world is vinegar. Coupled with fruit and sugar, this is known as a gastrique, but in liquid culture we call it a shrub.
Shrubs or drinking vinegars may not sound like a good idea to many people. We think this negativity probably comes from the idea that when a wine turns bad, it transforms into vinegar, and you don't want to be sipping bad wine! And yet, nobody has a problem using it to make salad dressing. The truth is, shrubs have been an important part of drinking history since the 15th century. And although the origins may be traced back as a method to preserve fruit, one could argue that fruity and spiced vinegar syrups—whether made out of necessity or desire—were among the earliest drink mixers, used in recipes both hard and soft to create everything from medicinal cordials to stimulating punches.
There's certainly more than one way to make a shrub, and that's one of the reasons they are so interesting. Variations include cooked methods versus a cold process, fruit maceration with vinegar first or sugar first, measurements by weight or by volume, different proportions of fruit, acid and sugar, different sweeteners—the list goes on and on. Everyone has their own way of doing it. We used a very simple cold technique based on details from an online post by Imbibe Magazine to make a basic raspberry shrub, but we will be trying other methods too. It seems that most recipes are extremely forgiving, allowing adjustments or experimentation to suit your taste. About the only thing you can't do is ignore these simple steps and expect to enjoy homemade results without even trying. It doesn't get much easier than this!
Raspberry Shrub
2 cups fresh raspberries
2 cups apple cider vinegar
1.5 cups superfine sugar

Combine fruit and vinegar in a jar and seal tightly. Shake for ten seconds, then again daily for two weeks. After two weeks, open and strain out solids. Combine liquid with sugar and seal again. Shake to dissolve (may take multiple shakes over several days to completely dissolve sugar).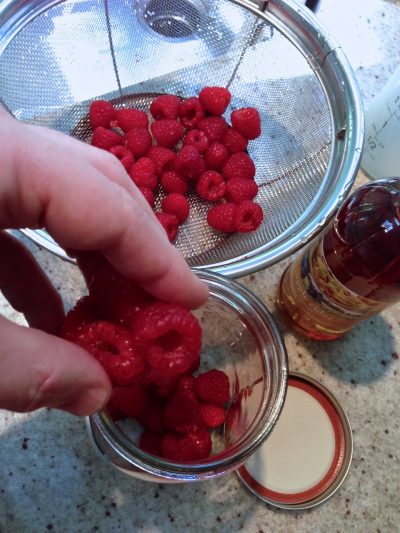 The hardest part of this process is the waiting. A cold process may be simpler than cooked methods, but there is usually a waiting period to test your patience. Shrubs are also much nicer if they are clear, so try to avoid using a fruit purée to save time (although a clear shrub probably doesn't taste any better than a cloudy one). We also recommend careful straining to further improve the clarity of the final result. Like a our Limoncello recipe, we filtered our shrub through a fine mesh strainer, then paper towels, and finally a paper coffee filter to achieve a remarkably clean result before adding the sugar. We did, however, take a shortcut with the sugar by using a blender to quickly dissolve the granules. This generated a lot of bubbles which took a day or longer to dissipate.
An alternate cold method we read about from several sources involves combining an equal weight of chopped fresh fruit and sugar, letting the sugar dissolve while drawing out the fruit juices over several days. Vinegar is then added as a third equal proportion by weight, the solids removed and any remaining sugar dissolved. We will try that method next.
By most accounts, there are several advantages to using a cold process. Not only is it generally easier than cooking over a stove, but avoiding heat also helps to bring out the fresh, potent flavors of the fruit and allows living microorganisms to do a little magic as well. Like our simplified ginger syrup recipe, the flavors also remain strong over time. We find that cooked syrups lose intensity after just a few days or weeks, and that seems to be the case for shrubs too. With so many recipes and opinions out there, we are sure some of you will disagree, but this is a good starting point if you have never done anything like this before.
So, now that you have a shrub, what can you do with it? Well, for starters, spoon a little into a glass and mix it with sparkling water at about one part shrub to four parts bubbly. Do this directly over ice in a glass and try it. If shrubs are new to you, it can seem a little strange the first time you taste and smell a drinking vinegar, and that's okay. As always, you can adjust to your taste, but notice how even this simple beverage showcases the intense flavor of the fruit. Without being overly sweet, it remains refreshing and delicious. Think of this first drink as a sparkling raspberry lemonade—without the lemon. It sounds odd, but once you get used to the idea that citrus is not needed for sour flavors, you begin to understand the appeal and the possibilities a shrub can offer in mixed drinks.
Moving on to something with a bit more kick is as easy as adding a shot of your favorite spirit to the sparkling combination above. Try an ounce of rum, a reposado tequila, or even gin or cognac. Making tall drinks like this couldn't be easier. If you'd like to balance the acid with a bit more sugar, try a some ginger syrup or your favorite liqueur. The possibilities are endless. Once we grew tired of inventing new recipes over ice, we decided to get serious and constructed something for the cocktail glass:

1.5 oz raspberry shrub
1.5 oz cognac
.25 Campari
1 dash Angostura Bitters

Stir with cracked ice until chilled and amply diluted, then strain into a chilled cocktail glass.
We literally just made this up on the spot. A decent rum might have worked nicely instead. With even a modest inventory of base spirits and liqueurs you could use your shrub to surprise and delight a house full of guests with variations on this idea all night long. We opted to include a little Campari in this one which introduces a bittersweet element to the sour shrub. Sweet vermouth would have been just as interesting for different reasons. Our base spirit teams up with the Angostura to add some depth, but here again, you could choose another base and take this drink in a completely different direction. We like this combination a lot, so the only thing we are missing is a name. Anyone have any ideas?
In the final analysis, we have to admit that we wish we would have done this sooner. A shrub may be just another tool for the master mixologist, but it's also perfect for aspiring enthusiasts because it has so many virtues. The fact that we made raspberry is incidental. Our fruit could have just as easily been strawberries, rhubarb, or a combination of seasonal fruits, herbs and spices. Even frozen fruit can yield decent results. Many successful recipes also employ honey as the sweetener. For the vinegar, apple cider works nicely, but we could have used plain white, a wine variety, balsamic or even a combination. But the beauty of shrubs lies as much in the flexibility of ingredients as it does in its versatility as a mixer. It's fun to find a cocktail ingredient that works just as well (or better) as a non-alcoholic base as it does with a variety of spirits and liqueurs. We've provided a starting point here to get your ideas started, but it's very clear that the only real limit is your imagination!