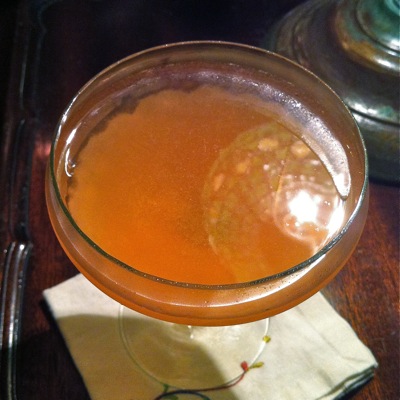 Some time ago we wrote about St-Germain, the wonderful elderflower liqueur with a unique, fruity and floral flavor. Armed with this exciting new liqueur that showed so much promise, we felt that there was simply no end to the many ways it could be used successfully in a cocktail. However, since that time, most of the drinks we see on bar menus are variations on the original sparkling wine and vodka theme. That's still a nice way to use the stuff, but every time we see someone doing something unusual or unique with St-Germain, it is worth taking note. Even Jamie Boudreau created a growing list of St-Germain cocktails that all sound pretty interesting. Another fellow blogger and respected writer, Paul Clarke even posted one of his own experiments, wondering if his combination had been "done yet". We tried it and immediately put it on the house menu. And now we're going to share it with you.
Dunniette by Paul Clarke
1.5 oz gin
.5 oz St-Germain
.5 oz Aperol
.5 oz lemon juice

Shake over ice and strain into a chilled cocktail glass.
One of the problems you can run into when mixing with St-Germain is overuse. The flavor is potent and unique. It's really easy to get carried away and make a cocktail that's just too sweet or over saturated with elderflower. That's why we like the idea of combining it with something like Aperol. As tasty as the liqueur can be with white wine or pear vodka—ingredients that play nice—it can also benefit from the counter-effects of bitter and sour. Of course, we are talking about balance, and this drink pulls at your palate in all three directions at once.
This may also be one of those cases where the gin provides a little extra magic behind the scenes. If you don't have Aperol, you could make a variation and use Campari, but you might go an extra quarter-ounce on the St-Germain to stand up to the added bitterness. This version has been called the Bitter Elder, and folks say it tastes a lot like Texas Ruby Grapefruit juice—apparently more so than the Jasmine cocktail. A bar called Drink in Boston mixes another variation using grapefruit instead of lemon and calls it a Dejuner
If you've been looking for something to do with that St-Germain, give this a try, or check out Jamie's list. Is there something you created on your own using St-Germain that you would like to share? We'd love to hear from you in the comments below.