Whether you are prepping for a weekend party or a spring picnic (we are probably several months early for that), you may be looking for ways to enjoy the event and the company of your guests without spending time mixing individual cocktails on request. Beer and wine are easy options, but you shouldn't have to sacrifice good flavors and quality ingredients just because you'd rather join the party instead of busily shaking craft cocktails. As log as you are willing to do some preparation a day or so ahead of time, you don't need to play bartender. We are talking about batched cocktails—a common request we get from friends who are either searching for the perfect recipe or are interested in techniques they can leverage to make the process easier once guests arrive.
For us, the Super Bowl refers to any vessel large enough to hold a batch of Philadelphia Fish House Punch. We know, there is also a big sports event that shares the name, but having a good self-served recipe that satisfies an entire group may be just what you need to enjoy the game. We'll start by giving you the punch recipe we follow whenever we bring a pre-made cocktail to share with a group. After we cover our favorite punch, we can get into other options and techniques that save time and make cocktail construction easier for large volumes.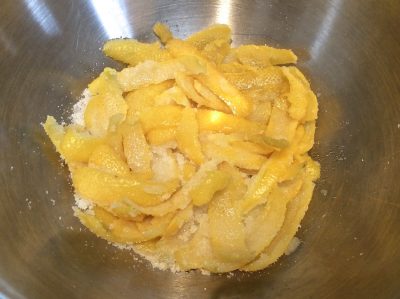 Punch
This punch pretty hard to beat. It's best to start the day before your event to give it time to chill and allow the flavors to combine. Before you start on the recipe, you need to decide is how you plan to serve it. Either you will ladle it out of a big bowl into small cups—in which case you need to freeze a big chunk of ice—or you will pour it into glasses over ice cubes. The first option is preferred, as it allows guests to serve themselves at the punch bowl. The second is more portable since you can bring the punch to a party in bottles. The recipe is strong, so it either needs to be served on the rocks to get some dilution, or in a bowl with a large melting ice chunk.
We like to make our punch bowl ice in a single block using a fluted brioche pan. You could also use a plastic tupperware bowl or something similar that won't break when ice forms. Ultimately, the ice you make will depend on the size of your bowl, but a quart container is a good place to start. We also like to decorate our ice with fruit. Lemon slices are perfect for this. Arrange some thin slices around the inside walls of your container and then fill it with ice cubes. This will hold the fruit in place while the water freezes. Top it up with water and put it in the freezer. Starting with ice cubes to make an ice chunk will chill the water faster which is a good time saver.
Now that you have your ice chunk started, it's time to make the punch itself. We can't take credit for the recipe—it's a historic process that was nicely documented in the book, Imbibe! by David Wondrich and later assembled and updated by Jeffrey Morgenthaler. This recipe works. Why mess with it?
Philadelphia Fish House Punch

1 pound sugar
12 lemons, peeled

16 oz Appleton V/X Jamaican rum
8 oz Smith and Cross Jamaican rum
12 oz cognac
3 oz creme de peche
9 oz Laird's applejack
16 oz lemon juice
6 pints cold water

Peel a dozen lemons over a big bowl to catch the peels. Make an oleo saccharum by dumping the sugar over the peels and muddle them for a few minutes to coat them in sugar and begin the extraction of lemon oils by the sugar. Let this sit for at least an hour, muddling occasionally. The sugar will moisten and turn to paste. This is the base for your punch.

After at least an hour, add the water and finely strained lemon juice, stirring to combine with the sugar and peels until the sugar is dissolved. Strain out the peels and add the other ingredients, stirring to combine. Refrigerate overnight to chill and allow flavors to combine. Serve in a punch bowl with a large chunk of ice, or on the rocks. Garnish with freshly grated nutmeg.

Makes about 5.5 quarts.
We always use aged Jamaican rum as indicated to impart a funkiness to the punch that is hard to get without it. You could substitute other brands, but a good Jamaican has flavors that work so well in this recipe. Briotette makes a delicious peach liqueur that we use, but we will often go with an inexpensive brandy instead of cognac. However, the important detail here is that bit about the lemon peels and sugar. As described, an oleo saccharum forms the base for this and many old punch recipes. Some folks leave the peels in the mixture for a garnish, but we strain them out once the sugar and lemon oils are incorporated to avoid a bitter result. Any remaining sugar dissolves more readily before adding the booze. Once the mixture is complete, it needs to rest in the refrigerator either in bottles or in one big container. Just make sure it gets some iced dilution either in the punch bowl or on the rocks as it is served.
Sangria
Another perfect option for batched cocktails is Sangria. It too can (and should) be prepared ahead of time. There are many recipes, and we have explored the combinations of wine, spirits, liqueur and fruit. Yet, we always go back to our base recipe. Click here to read all about Sangria, why we make it the way we do, and what you can do with what you have available in your cabinet. Here's our base recipe which is awesome as-is:
Basic Red Sangria

1 bottle red wine (750ml)
2 oz brandy
4 oz orange juice (fresh squeezed)
1 oz rich simple syrup (2 parts sugar, 1 part water by volume)
orange slices

Combine the wine, brandy, OJ and syrup in a 1-liter pitcher. Cut half of an orange into small slices and add them to the pitcher. Chill overnight. Serve in a wine glass or over ice.
Margaritas
Borrowing another revised recipe from Mr. Morgenthaler, our favorite Margarita works quite nicely as a batched cocktail. Previously, we scaled his proportions down to a single cocktail that fits in a big hand-blown Mexican cocktail glass, but here is the recipe for making a gallon of the stuff:
Margaritas by the Gallon by Jeffrey Morgenthaler

6 cups tequila (you'll need to buy two bottles, 750ml x 2)
2.5 cups triple sec
2.5 cups fresh lime juice
2.5 cups fresh lemon juice
2 cups simple syrup (dissolve 1.25 cups of sugar in 1.25 cups of water)

Measure all ingredients and add to a gallon container. Refrigerate to chill. Serve over ice, salt rim is optional.
We'll admit, it seems a little daunting to add almost two bottles of tequila and most of a bottle of triple sec to all of that citrus, but it's totally worth it. You will be tired of squeezing limes, that's for sure. You will need maybe a dozen lemons and even more limes to cover it depending on how much juice you can wrangle out of them. Forget mixes—this is a proper Margarita on a grand scale. It will be strong, so serving it on the rocks is a very good idea.
Batching Any Recipe
Just about any cocktail can be scaled up and batched so long as you consider the dilution. For the Fish House Punch and the Margarita above, it is expected that you will serve it with ice in some form, but what about recipes taken from books or from one of our own featured posts? We don't often think about it, but the final volume of a drink that is stirred or shaken is more than the sum of the recipe's ingredients because the ice melts as it chills the drink. This is an important factor in the final flavor, although it is never accounted for in the ingredients. Fortunately, we can come pretty close using a few careful calculations.
Let's say you want to batch a drink served "up" in a martini-style cocktail glass. Since you aren't shaking or stirring a huge batch with ice, you need to account for the water you would be missing from the chilling process. How much water would depend on how long you typically shake or stir. The type of ice also makes a difference, but a good rule of thumb is that ice adds about 25% more volume to the drink as it melts when stirred or shaken.
For example, to batch the Manhattan served up—not on the rocks—for 10 servings, how much water do you need to add? First, figure out the total recipe volume of what gets chilled with ice. A typically-proportioned Manhattan contains 2 ounces of whiskey, 1 ounce of sweet vermouth and a dash of bitters. That's basically three ounces total that normally gets stirred with ice. Scale that up to 10 drinks and you have 20 ounces of whiskey, 10 ounces of sweet vermouth for a total of 30 ounces (we can ignore the volume of bitters but don't forget to add 10 dashes!). So, 25% of 30 ounces is 7.5 ounces. Add 7.5 ounces of water and place this batched cocktail in the refrigerator or freezer. Once completely chilled, the mixture can be poured directly into cold glasses.
Depending on your technique, you may want to experiment a bit with the 25% rule. You may also find that you cannot get your drink cold enough in the refrigerator, or your freezer is so cold that it turns the drink to slush. Using frozen glasses will help keep a chill, but it may be better to serve your cocktail on the rocks. Recipes that require club soda or champagne should be batched without it so the bubbles can be added when served. Just make sure that whenever a recipe calls for shaking or stirring with ice, the batch conversion adds 25% water to whatever volume you have at that point in the process.
Other Techniques
You may decide that batching only gets you so far with some recipes—or maybe you just want to avoid certain tasks that are tedious. For instance, you could save time by making a mint syrup for Juleps and Mojitos. Squeezing all of your citrus in preparation for several different drinks is a good idea. Just save some fruit for garnishes and remember that fresh citrus juice doesn't stay fresh forever. If time is on your side and you have weeks or months before an event, you could try barrel aging which is already a batch process. If you have other techniques or favorite recipes that work well for groups we'd love to hear about them in the comments below.