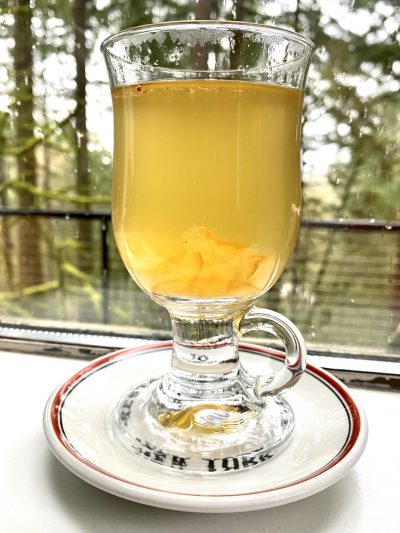 There must be many ways to make a Toddy, because if you dig into cocktail history, the recipe first published in the Jerry Thomas guide is awful, or at least we have always thought so after making it years ago. With only whiskey, hot water and nowhere near enough sugar, it is one of the reasons we have never bothered to write about it. Then, Mr. Morgenthaler made an entertaining little video about it and while we watched, we kept shouting YES, EXACTLY!
Of course, Jeffrey always manages to twist his creative genius and pop the lid off an old idea to transform it into something new and wonderful. In this case, he brings honey, ginger and spice to the mix. We filed this away and intended to write about our hero again when we could feature the Toddy, and then we stumbled across this pre-made jar of Toddy mix!
Ok, it's not actually sold as a Hot Toddy mix—it is a Honey Citron & Ginger Tea mix—but if you follow the Morgenthaler Method, you will notice that it is pretty damned close. We found our huge jar at Costco for $7.99, but it may be available elsewhere (like Amazon). We have also seen homemade versions. The stuff is basically a sweet and sour lemon-ginger marmalade with just the right balance of honey to sweeten a hot beverage.
You can, of course, go right ahead and chop some ginger, blend it with honey and hot water, strain it, bottle it and so on. Get a lemon, get some allspice liqueur—all of the manual steps plus your favorite base spirit will lead you to the best Hot Toddy you have ever tasted. However, since we bought the tea mix anyway, we couldn't wait to find out if it also makes a decent cocktail.
We started by heating water using a small electric kettle for pour-over coffee. You must heat more water than you need, because you have to pre-warm your glass. Start by filling your glass with hot water. Then, wait a few moments for the glass to heat up. Be careful about the glass you choose, as the thermal shock may crack it. A favorite coffee mug would work just as well. Dump the hot water and take a regular spoonful of the tea mixture and drop a dollop into your glass. Add your favorite spirit (we used an ounce and a half of rye whiskey), give it a stir to incorporate, and top up the glass with hot water as you stir. The proportions are up to you, but a spoonful of mix to a shot of booze in a medium glass of hot water seems about right, and with this much tea mix, you can afford to experiment.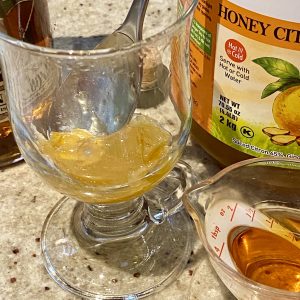 If you need your drink to be piping hot, you could use Morgenthaler's double boiler technique by assembling the ingredients in a tin shaker and stirring it inside another filled with boiling water. The metal tin will transfer the heat to the drink very quickly as you stir before you pour it into your heated glass.
We have to admit that for minimal effort, this mix makes a very nice drink. We have tried it with bourbon, rye, rum and brandy with great success. The mix contains thin strips of citrus peel, so it practically has its own garnish, but we sometimes grate a small amount of nutmeg or toss in a cinnamon stick for a spicier aroma. You could also add a dash of bitters or allspice liqueur if you want more spiced flavor. This stuff is flexible and forgiving.
Hot Toddy (the easy way)
1 heaping tablespoon of Honey Citron & Ginger Tea mix
1.5 oz whiskey (or your favorite base spirit)
4-5 oz boiling hot water


Pre-heat an Irish Coffee glass or coffee mug with hot water. Add the tea mix and liquor, stirring to incorporate. Top with hot water while stirring. Serve immediately.