Before a time of mobile electronics, blogs and social media, a person of means might have spent the afternoon "working" at the local club—a serious place to conduct serious business. Gambling, horse races, and of course, drinking were important challenges of the day. Over a century ago, such places were often called Turf Clubs, and wise club managers would have been smart to include a drink on the menu called the Turf and would find most of the men who loved to bet on ponies sipping them.
Consequently, there are several versions of a cocktail with this name, but one of the simplest is this one featuring Holland Gin (aka genever) and sweet vermouth. You could think of this as a Dutch Manhattan if that formula makes more sense. It is effectively an early form of the Martini, from a time before the sweet vermouth would eventually give way to dry, and a London dry gin would begin to replace its maltier-flavored predecessor.
Turf Club
2 oz Genever
1 oz sweet vermouth
1 dash Angostura bitters

Stir with ice to chill and strain into a chilled cocktail coupe. Garnish with a twist of lemon peel.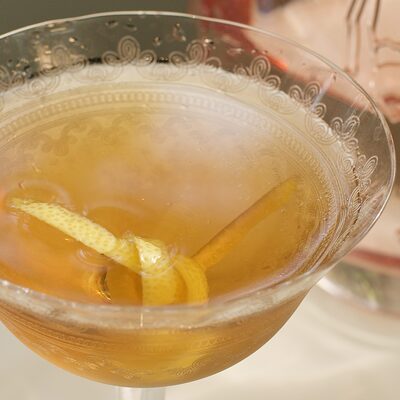 We used Portland's own Freeland Spirits Geneva to make this. These days you don't have to look very far to find a craft distiller making a Dutch style (or least genver-inspired) spirit. We have collected several local products that would fit the bill, and that is the point of this drink. It is a historic cocktail to be sure, and an interesting sipper to say the least, but with so few ingredients, this is definitely one that highlights your choices. Certainly, the base spirit you select will play a prominent role, but so will the vermouth. The Angostura helps to tie both together, but be sure to give your lemon a good twist and rim the glass, as the citrus oil does have an impact.
We have seen variations on the proportions that tip the scales toward the Italian modifier. Having a little more sweet and herbal richness might tame a bit of the otherwise malty flavor of Holland gin that we must admit still surprises us with its unfamiliar taste. But, if you own and love your genever, you may already know about this drink, and if not, here is a tasty recipe that is worth the effort.