This installment of the Drink of the Week is actually the last drink of 2010. If you have been following along, that makes 52 cocktail recipes posted over the past year, not including homemade ingredients and numerous other posts in-between. It has been fun to keep the momentum going with weekly features. We want to say thanks to everyone who reads and subscribes to Summit Sips and to those who are friends on Facebook or who follow via Twitter. We especially appreciate those of you who see fit to comment on the posts. Part of the fun that comes with these recipes is hearing what others are trying and discussing the results. To see all of the 2010 posts in order, click here.
We want to end the year with a fantastic cocktail, and the Last Word seemed appropriate, not only in name, but in what it represents for the mixologist, craft bartender and home cocktail enthusiast. Here's a drink that not only tastes absolutely amazing, but it is also a simple recipe with relatively easy-to-find ingredients. That's a good combination for a recently rediscovered classic.
A few years ago, Murray Stenson of Zig Zag Cafe in Seattle spotted this recipe in a 1951 book by Ted Saucier called Bottom's Up. According to the author, the drink appeared some thirty years earlier and is credited to a Vaudevillian performer by the name of Frank Fogarty. Stenson starting serving it at Zig Zag and soon, the Last Word was being featured at better bars all over the world. It's a great example of how a dusty old recipe can return to popularity if the ingredients are readily available. It's also a testament to the fact that a rediscovered classic can still gather wide appeal.
Last Word
.75 oz gin
.75 oz maraschino liqueur
.75 oz Chartreuse
.75 oz lime juice

Shake over ice and strain into a chilled cocktail glass.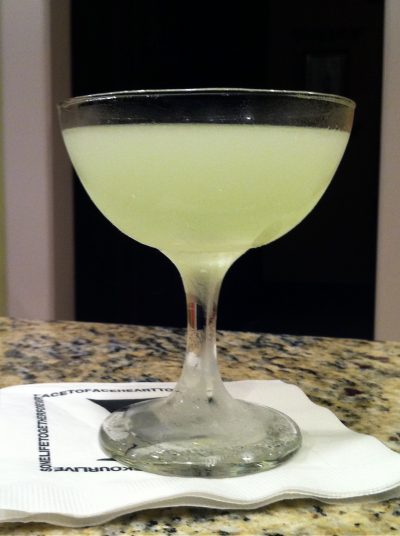 We'll say it for the last time this year, it doesn't taste like gin. But the botanicals in gin take this drink places that vodka never would. Here's another excuse to buy some Luxardo Maraschino. And if you have been wanting to build your collection of spirits, it's time to finally add Green Chartreuse to your cabinet. These are both easy to find, and there are other cocktails you can make with each of them. Finally, fresh lime juice gives the cocktail some bite.
It's a wonderful combination. Luxardo and Chartreuse in one drink—what more could you ask for? The nutty, funky character of the maraschino layers so nicely with the potent herbal notes of the Chartreuse, and the sour lime keeps everything in balance. It's refreshing, complex and delicious. Try the Last Word, then leave a few words of your own in the comments below.
Cheers, be safe and Happy New Year!