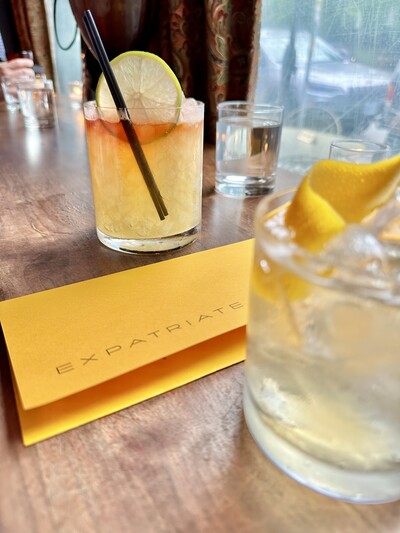 Our year-long tour of the Portland craft cocktail bar scene is helping to re-acquaint us with places that we have enjoyed in the past as well as some new locations to learn, know and love. One spot in NE Portland has always been a favorite, even if we don't often make our way there. The international decor is hard to pin down with objects from around the world placed here and there. The back bar is certainly asian, but there is a sense of international intrigue in this room which always makes us think of it like a place James Bond might hang out when trying to keep a low profile. It is somewhat intimate, with only a few tables, a smallish wrap-around bar, a big corner booth, and a long row of window-facing stools.
Opened in 2013, Expatriate offers a selection wine, beer, sake, and of course, seasonal cocktails. Our focus is the latter, but there is going to be something for everyone here. Run by Kyle Linden Webster, whom we recognized for mixing great cocktails at the old St. Jack before they moved to their west side location, Expatriate will always impress with fantastic flavors in the glass. But they also feature inspired bites created by collaborator Naomi Pomeroy, famous for Beast—the award-winning restaurant once located across the street.
We parked around the corner and made our way to its unassuming exterior, greeted by one of the bartenders just inside the door and were promptly seated along the windows. Our first round included the Propeller and the Lantern cocktails. The Propeller is a rocks drink with bourbon, lime, pineapple syrup and orange liqueur, accented with allspice and Angostura—a triple-improved whiskey cocktail that is modern but still clinging to classic ideals. We don't often see lime and bourbon pairing, but this works! The Lantern is an off-clear lowball with a gin base. It is herbal, owning complexity to Genepy, while also bitter, featuring light amaro and slightly-sweet blanc vermouth. However, the accent wins you over with coffee and chocolate bitters added. We could drink these all night.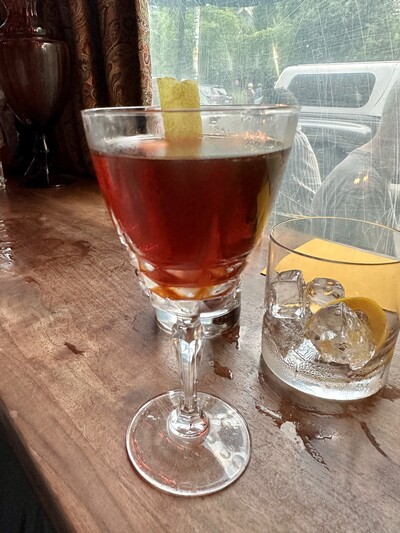 Our second round included the Coyote, a deeply complex mix of bourbon, Zucca (Milanese pumpkin amaro), Cocchi Dolo Teatro amaro vermouth, sherry and a melange of orange/lemon bitters. This is the complex bittersweet cocktail style we always look for on a menu and we were not alone as three Coyote's were ordered by our party of four whose previous order included the Paradiso, a gin, local amaro and orgeat delight. Our order also included a low-ABV request met with the Sherry Cobbler. We sometimes forget about this option which is versatile and always a delicious answer to someone who wants a little less alcohol.
All told, our visit to Expatriate was another reminder that even a decade and a worldwide pandemic cannot stop the creativity of good bar. The solid recipes and attentive service should continue to draw guests for years to come and we encourage everyone to make your way to Expatriate. We still have a half-year of locations to visit on our bar of the month journey around the city, and here is a link to all BOTM posts in chronological order.