At long last, we are finally posting the Negroni for the Drink of the Week. We are finding that there are just too many interesting twists on this classic that are worth writing about and we want to be able to reference the original.
The history of this cocktail provides a two-for-one opportunity since one cannot describe the Negroni without first referencing the Americano, and to describe the Americano requires mentioning the essential ingredient, Campari. So, this brings us to late nineteenth century Italy where production of a unique apéritif and digestif was just getting started. Campari is basically an alcoholic infusion of fruit, bitter herbs and aromatic plants. The exact formula remains a secret. By the early 1900s, Italians were enjoying Campari with soda water, and it is this simple combination that inspired a drink that became quite popular.
Americano
1 ounce Campari
1 ounce sweet vermouth
2 ounces soda water

Pour the Campari and sweet vermouth into a tall glass filled with ice and stir. Top with soda water and garnish with a lemon twist.
During American Prohibition, Campari was classified as medicinal and could be consumed without penalty. In Italy at the time, locals began to notice that visiting Americans were ordering this drink, so they started calling it the Americano. An Italian aristocrat named Count Camillo Negroni was living in Florence after a colorful career in America as a cowboy and a gambler. One day, upon ordering an Americano, he requested that it be fortified with gin. Perhaps he had acquired a taste for spirits and cocktails while in America. The barman obliged and garnished the drink with orange peel to differentiate it. The Count was so taken with the new combination that he continued to order the same preparation again and again. It eventually became known as the Negroni in his honor.
Most historical accounts of this cocktail list the ingredients in equal proportions of gin, sweet vermouth and Campari. Others prefer to tone down the Campari to make this more accessible. For some, proper balance is found in a boozier ratio of 3:2:1. Whatever your preference, a few dashes of bitters helps to bring everything together.
Negroni
2 ounces gin
1 ounce sweet vermouth
.5 ounce Campari
1-3 dashes orange bitters

Pour everything into a mixing glass, add ice and stir to chill. Strain into a rocks glass with fresh ice cubes and garnish with an orange twist.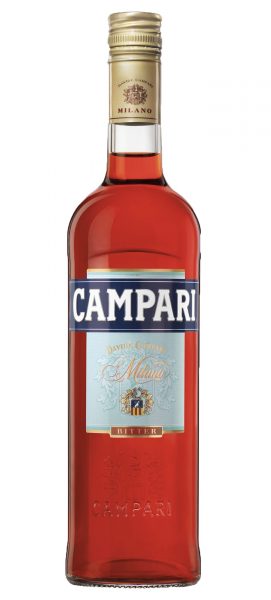 If you have never tasted Campari, or you are somewhat new to the bitter spectrum of flavor, this cocktail might be an acquired taste. It's usually the bitter Campari that surprises people, especially in America where bitterness in drinks is not a familiar experience. However, once you start to appreciate it, a whole new world of flavors begins to open up.
For the most incredible Negroni, try to find Carpano Antica Formula vermouth. It makes a huge difference. Also, don't be afraid of strong gins that can stand up to the herbal complexity of the other ingredients. If you don't have orange bitters, substitute Angostura (try other bitters too), and don't forget to express the oils from the orange peel. Even this seemingly subtle detail has a profound effect. Stirring instead of shaking keeps everything crystal clear, but make sure you are chilling the drink. Some dilution is important and it will take a little longer to get there stirring. We like to strain over ice spheres to minimize additional water, but many recipes call for serving this up in a chilled cocktail glass.
In addition to adjusting the proportions, the Negroni offers opportunities to experiment. As we mentioned, better vermouth, substituting bitters and selecting another gin can transform the flavor, but so can the garnish. Some bartenders garnish with a flamed orange peel, igniting the oils as they squeeze the zest over the surface of the drink. Swapping one ingredient for another is a popular way to riff on this drink. In fact, the Trident cocktail from the last post is a modified Negroni that swaps all of the ingredients!
Once you've experimented a little, you may never settle on a favorite recipe, treating each "test" as an opportunity to try something new. On the other hand, you might quickly fall in love with one version, pouring it over your favorite shape of chunk ice and finding a cozy spot to slowly sip and enjoy this classic.