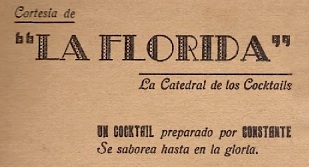 This week we finish up our short Caribbean series with a two-for-one daiquiri post. Officially, we are featuring the Floridita Daiquiri for our Drink of the Week, but a variation is actually more popular. Like last week, this drink is all about subtlety, although it's the kind of subtlety you find hiding inside a delicious rum sour! Last week, it came in the form of crème de cacao—a slight chocolate nuance just beneath the surface of a more complex combination of flavor. This time, the effect is retained with a different flavor added to the classic daiquiri recipe.
At La Florida (or El Floridita, if you prefer) there were several daiquiris on the menu. Daiquiri Nos. 3 and 4 were similar and are often confused today. The basic daiquiri formula includes white rum and a careful balance of sugar with lime juice. In Daiquiri No. 4 (the Floridita Daiquiri), some of the sugar is replaced with maraschino liqueur, and in Daiquiri No. 3, the sugar is replaced with maraschino and grapefruit juice. So the difference really has to do with whether or not you use the grapefruit.
This third variation became known as the Hemingway Daiquiri. It's widely understood that Ernest Hemingway was an avid drinker, and his favorite tipple was Daiquiri No. 3 served in Havana by his good friend behind the bar, Constantino. Here are both recipes. Take your pick (but try them both!):
Floridita Daiquiri
2 oz white rum
.75 oz lime juice
.5 oz simple syrup
.25 oz maraschino liqueur

Hemingway Daiquiri
2 oz white rum
.75 oz lime juice
.25 oz grapefruit juice
.25 oz maraschino liqueur
.25 oz simple syrup

Shake over ice and strain into a chilled cocktail glass.
We love a classic daiquiri, but this is better. The almond-like cherry flavor of the maraschino adds a funky depth that takes this perfect cocktail to a whole new level. Luxardo is the best brand and these days it's pretty easy to find. The effect is subtle. By replacing just a little sweetener with the liqueur, the flavor is present, but it's not outshining the lime or rum. The grapefruit adds yet another layer of flavor to appreciate. We don't always have fresh grapefruit, but we usually have limes. It's nice to know that one can make it either way.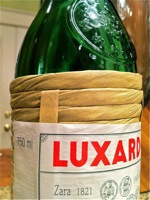 Balancing a daiquiri can be tricky. Some people consider it both the easiest drink to make and at the same time, the hardest to make well. We tend to enjoy them however they happen to turn out, but if you want perfection, it can sometimes only take a few drops of juice or syrup either way to bring the cocktail into balance. There are some who believe these should be served frappe, or with crushed ice in the glass because that's how they were listed on the menu and it's how Papa Hemingway drank them. If you do the research, you'll find stories about Constantino installing devices in the bar to store crushed ice as well as using electric "shakers" that create a blended, frozen version of the cocktail. This drink is so good that we think you can get away with serving it both ways. If you like your rum, shake it hard and serve it up and you will taste more of it. If you serve it frozen, drink it fast or it will dilute quickly. The garnish is also up to you. The classic lime wedge works, but so does a delicious homemade cocktail cherry.