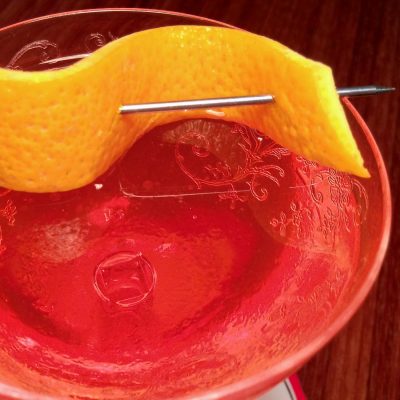 The Lucien Gaudin is a Prohibition-era cocktail named for the extraordinary fencing champion who won olympic gold medals in the 1920's. We don't know exactly why this combination of ingredients was named for the famous fencer or whether he actually enjoyed this drink. Was it the French vermouth that brought to mind the most famous Frenchman of the day? Was it named after an elaborate bar fight? Cocktails have certainly been named for stranger things. There is probably a deeper story to this one, and although it's sometimes fun to learn such details, being in the dark doesn't change the fact that this is a good drink, even if its origin is somewhat obscure.
It falls into the aperitif category as a cocktail you might consume before a meal. Like the Negroni, this drink combines Campari with gin and vermouth for a somewhat bitter effect that stimulates digestion and prepares your appetite for what's to come. However, here the vermouth is dry, offset with a bit of Cointreau (or triple sec) for a lighter, more delicate combination. The proportion of Campari is also reduced, resulting in a wonderful cocktail that we think works anytime, and wow is it ever pink!
Lucien Gaudin
1 oz gin
.5 oz Cointreau
.5 oz Campari
.5 oz dry vermouth

Stir with ice and strain into a chilled cocktail glass. Garnish with an orange twist.
The orange twist is nice. A fresh squeeze of zest allows the orange oil to tie it all together, helping to highlight floral or citrus elements in your gin which obviously plays an important role here. We like Plymouth or Aviation gin which has less juniper, although other brands are certainly worthy of this recipe. Some folks prefer a lemon twist, but one of the joys of an all-spirits cocktail is that you don't need to have fresh produce to make it. If you have an orange or lemon—by all means—cut a twist, but if you are trying to save time or a trip to the store, skip the garnish and enjoy a delicious classic without it.
We might not have given the Lucien Gaudin much more attention if not for a message we recently received from one of our readers. Michael Meyers was working on a sophisticated riff on the Chrysanthemum which you might recall is also an aperitif cocktail based almost entirely on French vermouth. Michael's drink is called the Anthurium, and if you could fight foils with flowers, this would give Lucien Gaudin a run for his money.
Anthurium by Michael Meyers
1.5 oz dry vermouth
1.25 oz Campari
.25 oz Yellow Chartreuse
1 barspoon Solerno

Stir with ice and strain into a chilled cocktail glass. Garnish with a lemon twist.
Michael describes this drink as both dry and fresh, beautifully balancing Campari's bitterness with sweet citrus and herbal underpinnings. It's also lovely in the glass, and when we first tried it we couldn't help recognize some similarities to the Lucien Gaudin. Besides the color similarity, the aptly named Anthurium has no gin, but the addition of Yellow Chartreuse makes up for it in flavor. As pre-dinner cocktails go, it is definitely the more sophisticated of the two drinks we present here and worth your effort to explore its delicate balance of flavors.