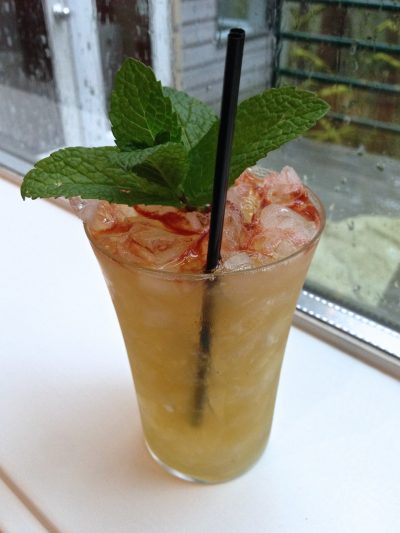 Thanks to everyone who played along with our last post. April fun has become somewhat of a tradition at Summit Sips, and we look forward to doing it again next year. Shifting back to serious cocktails, we are finally featuring the Shipwreck. This one comes from Portland, Oregon's Jamal Hassan. From Ox Restaurant's Whey Bar, to Tasty 'n Alder or Kenny and Zukes Deli—this guy really gets around! You may recall a cocktail we made a while back called La Yapa which continues to receive high marks at our house. That drink alone is reason enough to follow Mr. Hassan wherever he happens to be tending bar in town. He has another winner with the Shipwreck, a simple drink that is something akin to a julep with dual base spirits. It's a perfect spring cocktail and one we plan to feature on our house menu throughout the year.
Combining bourbon and aged rum is a great way to create added depth and interest beyond just a Mint Julep. But it's more than that isn't it? With the lime juice you have an acidic element that helps balance the sweet—one of the common complaints some folks have with the Kentucky Derby favorite. Shaking with mint reminds us of the Whiskey Smash, and if we are honest, the Mint Julep is as much about technique as it is about the ingredients. From this perspective, the shipwreck and the julep are different. Yet, it's hard not to expect similarities while staring down at a frosty glass of crushed ice and a mint sprig. Rather than being intensely spirit-forward, this drink is balanced and refreshing.
Shipwreck by Jamal Hassan
1 oz bourbon
1 oz aged rum
.75 lime juice
.5 oz simple syrup
5 mint leaves

Shake with ice until chilled. Double strain into a tall glass over crushed ice and garnish with a sprig of mint and several dashes of Angostura bitters.
Dashing Angostura Bitters over the top creates a reddish contrast with the bright green sprig and gives each sip an air of spice. In this regard, it reminds us more of the Queen's Park Swizzle. We used Buffalo Trace bourbon and Mount Gay Extra Old rum to make ours. Overall, even with two base spirits it's another easy cocktail to make with plenty of flavors to hold your interest. Is it Tiki? Is it a swizzle? A julep? We don't really care how you want to categorize it. We don't even know why it's called a Shipwreck. Just shake up another for us please!