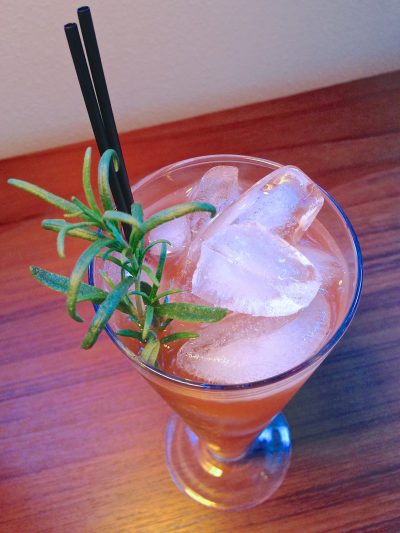 Yes, we waited until spring to try this recipe, but outside of the name, there wasn't a good reason to delay. If you are already a fan of grapefruit cocktails, you'll appreciate that this one is both delicious and refreshing. It's also quite low in alcohol so you won't feel bad after slurping down a couple. For the unacquainted, hit up your local supermarket and get familiar with what you have been missing.
We've become a big fan of grapefruit juice in cocktails. It's something of an unsung hero in recipes that feature it. As citrus goes, it lags behind lemon and lime in terms of popularity as an ingredient, but we are constantly impressed with how successful it can be in a mixed drink. It certainly outshines orange juice which tends to fall flat, and it's usually doing more than just providing acid to balance something sweet. While contributing its distinct flavor, grapefruit also offers some bitterness, and depending on the variety, it can add some sweet (as it does in the Hemingway Daiquiri).
The Aprile was posted by Imbibe Magazine a couple years back crediting Upstairs on the Square, in Cambridge, Massachusetts. It's a simple drink with just two main ingredients plus a rosemary garnish, but don't underestimate the rosemary! There are three distinct flavors going on here. Depending on your fruit, the cocktail may turn out a little sweet or nicely balanced. We used white grapefruit. It has more intense flavor but is less popular for eating than the pink or ruby varieties which are sweeter. We figured plenty of sugar would come from the Aperol and we were right. There's a nice balance with white grapefruit juice, and the bitter aperitivo doesn't overpower. Give the rosemary a few slaps in your hand to enliven the scented leaves before plunging the sprig into the glass. You'll be rewarded with an aromatic gift with every sip! With so little to its construction, the Aprile would definitely be diminished without the garnish.
Aprile
1 1/2 oz. Aperol
4 oz. fresh grapefruit juice
Tools: barspoon
Glass: juice
Garnish: fresh rosemary sprig

Combine Aperol and grapefruit juice in an ice-filled glass and stir to combine. Garnish.