We love the "hunt" for ingredients to reproduce something delicious at home. Even after amassing an embarrassingly complete inventory of possibilities, this drink forced us to collect a few things we were missing. We recognize that not everyone will have the ingredients to make this cocktail—in fact, most of you probably won't—but for those of you adventurous enough chase down a few items—even if it means making some creative substitutions—please join us and share what you think of this unique creation.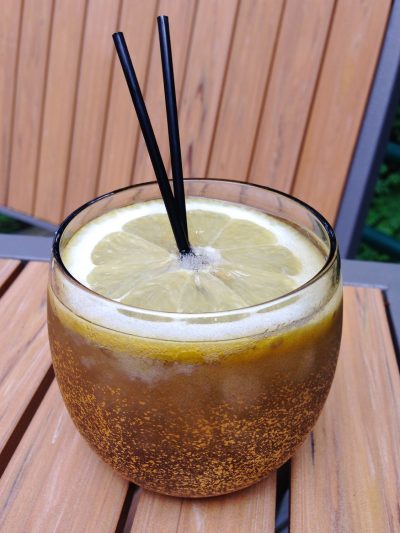 First, we need to credit the drink's inventor, Tom Lindstedt, bar manager at Little Bird Bistro in Portland, OR. There are so many fantastic places to eat in Portland that it's almost impossible to justify returning to the same place twice, but we keep going back to Little Bird. So far, we have never had a single bite that wasn't totally satisfying and delicious (the cassoulet is wonderful!). Fortunately, the cocktails are just as good as the food, and Tom was kind enough to jot down the proportions of this drink for us.
We last visited Little Bird a few weeks ago. For some reason we always end up in Mexican restaurants on St. Patrick's Day, so in somewhat parallel fashion, we found ourselves at a French bistro on Cinco de Mayo. The question of the evening: Do we order a date-appropriate cocktail based on agave spirits (there were several on the Tequila Month menu to mark the occasion) or go with Cognac to align with the theme of the restaurant? Decisions, decisions. . .
Le Coco by Tom Lindstedt
1.5 oz Cognac
.5 oz lemon
.5 oz Genepy
.5 oz Mud Puddle Cacao infused vodka
.5 oz coconut syrup
1 dash Boker's Bitters

Shake with plenty of ice and strain into an ice-filled lowball glass or snifter. Garnish with a lemon wheel.
It wasn't the base spirit that enticed us to try this but rather the accompanying ingredients. First, there's Genepy. We weren't familiar with this until Tom let us taste a few sips. It is a strong, complex herbal liqueur with a bit of anise flavor thrown in—like Chartreuse with a dash of absinthe. We love both of those, so a cocktail using Genepy was something we simply couldn't pass up.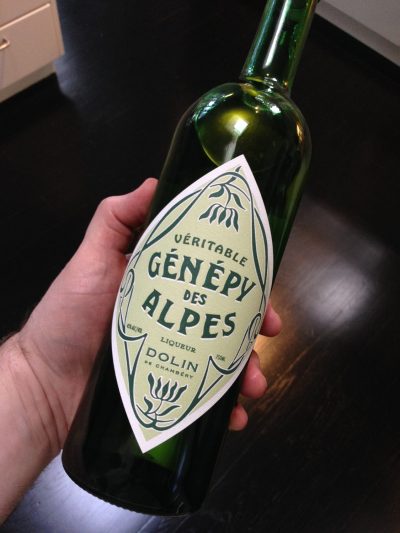 Next came the Mud Puddle Bitter Chocolate Vodka. This is made just a few miles away at New Deal Distillery where they roast the cacao nibs and macerate them in neutral spirits. It's a luxurious mahogany color with the essence and aroma of chocolate. Interestingly, this process does not include sugar, so the result is dry and intense with only the illusion of being sweet. So, now we have two unique ingredients, but how will they behave when mixed together? If you've ever mixed green Chartreuse with hot chocolate you have a pretty good idea. It's heavenly. Something similar is happening here only with Genepy and Mud Puddle.
To balance the lemon juice we have coconut syrup. This is house-made at Little Bird, but commercial alternatives exist (we used Monin). Chocolate and coconut are perfect together, each playing off of the other while the Genepy adds the expected magic. The lemon keeps the sugar under control and the cognac adds even more depth and character. It would have been too easy to use rum here so we like the choice of employing brandy to give a more sophisticated edge to what is easily a tropical cocktail that would feel right at home a few miles away at Hale Pale. Finally, it's Boker's bitters to finish it off. Hey, if you have some, why not!
This brings up an important point. What if you don't have Boker's bitters? Actuallly, the bitters were the least of our worries. We didn't have Genepy, let alone Mud Puddle or coconut syrup. Tom had some thoughts on the matter that he was kind enough to share. It involves some sweet/dry spirit/liqueur swapping, and you can come pretty close with easier-to-find alternatives. So, let's start over and describe how we could make the same (or very similar) drink using different ingredients.
First, the cognac is flexible. You could get away with a decent brandy. As always, better is better, but there's no reason to break the bank. Lemon juice? You need fresh—always. For the Genepy, it's possible to come close by under-pouring green Chartreuse and adding a dash of absinthe. It's not exactly the same, but it's pretty close. Now, for the switcheroo. Instead of Mud Puddle Vodka and coconut syrup, Tom agreed that coconut vodka and creme de cacao would probably work nicely. The cacao liqueur is easy to find and Cîroc makes a coconut vodka. The point is that by swapping your sweet and dry ingredients this way you should come out with a similar combination of flavor when it's all said and done. For the bitters, Dr. Adam Elmegirab's Boker's is what we used, but you could get away with another rich aromatic like Fee's Barrel Aged. Angostura would definitely change the flavor profile.
We went through a little trouble to pull this off, but we wouldn't have bothered if we didn't think it was worth it. We even tried a few substitutions along the way to prove it's possible to come very close, even if you can't get the ingredients exactly right. We like to make this tiki style by shaking with crushed ice and pouring the whole works into a vintage gold speckled glass that resembles a coconut. Of course, the easy way to try one of these is to head over to Little Bird and order one, but we are hoping someone out there in the world will try it themselves and let us know how it turns out.