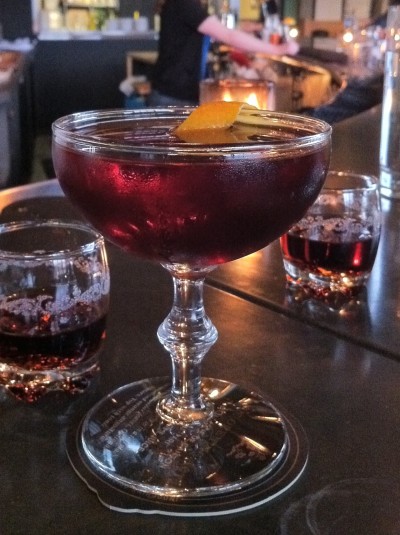 It's Negroni Week all over the world! It started on June 2nd and extends throughout the week to June 8th. At current count, 1271 participating bars are donating a portion of the sales of this featured cocktail to their chosen charities. At Summit Sips, we encourage everyone to support local businesses and charities everywhere by ordering a Negroni at participating establishments. For details as well as links to find locations near you, check out NegroniWeek.com. The event is presented by Imbibe Magazine in conjunction with Campari and was inspired by the Negroni Social event at Nostrana in Portland, Oregon. Of course, not everyone is familiar with the Negroni, so we thought we'd help get the word out and remind readers of some of our favorite posts featuring the Negroni or variants based on it.
Just over four years ago, we posted about the Negroni cocktail in detail. Click the link for a bit of history about this enduring classic and how it evolved from the Americano. Recently, we learned that in the US, the Negroni is served differently depending on where you are. The east coast tends to serve them on the rocks while the west coast enjoys them served up. It's still a Negroni either way!
One of our favorite variations is the Trident cocktail which is similar in construction if not somewhat similar in flavor—with none of the same ingredients! This drink demonstrates how successful substitution can sometimes yield amazing results.
Perhaps landing somewhere halfway between the Trident and a classic Negroni is the Norwegian Negroni. This delicious creation comes to us from Portland's Kevin Ludwig and it's one of our favorites. Beaker and Flask may be gone, but the recipes will live on!
Sometimes we try to be creative with Italian Amaro and end up mixing a Negroni-like cocktail that ends up being the Cin Cyn. Without even realizing it, we end up getting excited a cocktail we think is completely original—and it is delicious, to be sure—but it already has a name.
If you enjoy these drinks, you'll probably love the Anodyne, Boulevardier, and possibly Fangs Out. All of them are spirit-driven and make great candidates for barrel aging. Whether you participate in the event this week or simply mix a few of these for yourself or friends, there's plenty to love about the Negroni.