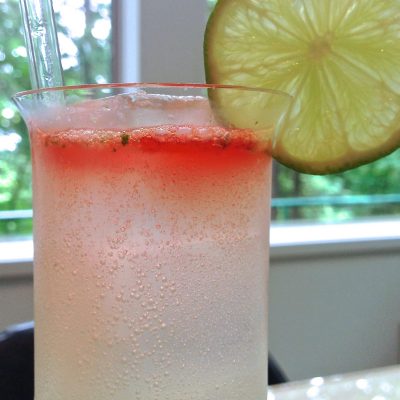 Strictly speaking, a rickey is a highball cocktail that is not supposed to contain sugar—or at least it shouldn't  if we are sticking to historical traditions. The style dates back before Prohibition when drinks were simpler and it was easier to categorize such details. When you mention the Rickey, most folks think of the Gin Rickey, a drink built in a Collins glass over ice. First, you squeeze a half ounce of fresh lime juice. Then, add two ounces of gin and top up with club soda. It's a decent drink that is both refreshing and easy to make—a nice combination for a hot summer day. It also works with other base spirits and gets renamed appropriately.
A couple months ago a batch of similar spring cocktails was published in the Oregonian. Some were more complicated, but one we recognized (in name at least). It was the South Side Rickey by Andrew Boggs of Trifecta Tavern. This rickey is actually a combination of the Southside cocktail and a more traditional Gin Rickey. There are sticklers out there who will cry foul on using rickey in the name because of the simple syrup, and if that's you, call this drink something else—we're going to make it anyway and enjoy the balanced flavors instead of worrying about naming conventions.
South Side Rickey
2 oz London dry gin
.75 oz lime
.75 simple syrup
5-6 mint leaves
seltzer
3 dashes Peychaud's bitters

Gently muddle the mint leaves in a shaker. Add gin, lime and simple syrup. Shake with ice, then strain into an ice filled Collins glass. Top with seltzer and garnish with Peychaud's bitters and a lime wheel.
It's easy to recognize this is just a Mojito with gin, but it's also a carbonated version of the Southside. Sure, it's disguised a little bit with the bitters adding some color, but we don't mind playing base spirit switch-a-roo here. The fact is that gin transforms flavors in ways that rum cannot, and we love the Southside. After recently posting the grilled pineapple version of one of our favorite recipes, this one is a welcome variant. Besides, some people prefer drinks on the rocks and this gives them a refreshing option while giving you as host another easy recipe in your repertoire.
Boggs likes to use Gordon's gin, but any London Dry style will do. We used Cannon Beach Distillery's Lost Buoy Gin and it's absolutely wonderful. Don't over-muddle the mint leaves when making this drink. That will only encourage bitter off-flavors to develop. Instead, gently tap the leaves with your muddler before adding the other ingredients. Since shaking with ice tends to break the mint into tiny pieces we wondered if we should be double-straining to remove them. Why bother! This is a summer drink and a little mint in the glass looks nice against the pinkish background. We served ours in this lovely footed highball glass available in the Summit Sips Store.