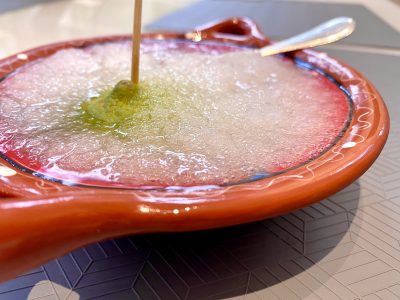 Normally at this time of the year we unleash an incredible cocktail recipe for spring, or we feature mind-blowing techniques nobody has every tried before. We'd be foolish to let a little social distancing slow us down, but in this new era of healthy responsibility, we are all trying to "flatten the curve" of COVID-19 infection. We think a similar sounding philosophy could also apply to cocktail service.
We have always recognized that some glassware choices are better than others, but this is often based on tradition and rarely affects the drink itself. Sure, a Mint Julep works nicely in a frosty silver cup, and like a Mule, metal glassware adds a tactile chill to the experience. Yet, in these trying times, should we really be touching everything just for the experience of it? Simplification is in order, even as it applies to stemware. Do we need our drinks served "up" when there are examples of drinks called lowballs? Drinks in bowls are on the right track—in fact, we just featured a cocktail served in a bowl—so we know we can do better. Let's Flatten the Serve.
We started with a frozen Margarita. A blended version of this drink allows you to spoon it like sorbet, although the salted rim poses a bit of a challenge as you lean over and lick the rim. So, we invented a "salt stick" as a convenient way to elevate the salt so you can scrape at it with your spoon. Just rub a bamboo skewer with lime juice and dump salt on it. Let this dry carefully, then stick it into a lime shell and point it toward Mexico.
This worked so well we decided to try flattening an Old Fashioned. We normally serve them over an ice chunk, but for this exercise we pre-chilled the plate and used mini spheres, building the cocktail in a stirring glass before pouring it over the orange peel garnish. A flattened Old Fashioned should be lapped up kitty cat style with your hands behind your back. Trust us. This is the best way.
Finally, we realize this may not be the time for celebration—but one day we may want to raise a glass. . . but should we? What if we lowered a glass? We have always wanted to build a champagne pyramid, so that's exactly what we did—with saucers! We can celebrate medical professionals, first responders, and everyone else saving lives right now. Call up friends and family for a virtual happy hour and put your face in some bubbly!
We know there are many more cocktails out there that would fit this presentation nicely. One suggestion was a flattened Bloody Mary, but since we have never liked tomato juice, we made a fantastic marinara version a few years ago and called it the Bloody Mario. We did not try it, but you can flatten that cocktail by simply pouring vodka on a pizza!