A friend recently suggested we try the recipe for the signature cocktail from Chicago tiki bar, Lost Lake, featured as the 2016 Imbibe 75 Cocktail Bar of the Year. We love a good tiki recipe, and with the fantastic weather we are having in the Pacific Northwest, we appreciate the tropical-inspired midwestern import—especially during the current pandemic lockdown situation and restricted travel. We can enjoy sipping these right at home on the deck.
The cocktail's creator, Paul McGee seems to have grabbed every ingredient from our favorites list to create the house special. As it turns out, this drink was created as a riff on another drink from fellow Chicago proprietor, Toby Maloney. Toby's amazing Riviera cocktail has always been a favorite of ours and is a Violet Hour drink we wrote about years ago. The inspired trifecta of pineapple, maraschino liqueur and Campari is a revelation. This time, we are layering it over Jamaican rum instead of gin and adding passion fruit for good measure!
Lost Lake
2 oz aged Jamaican rum
.75 oz passion fruit syrup
.75 oz fresh lime juice
.5 oz pineapple juice
.25 oz maraschino liqueur
.25 oz Campari

Shake with a cup of crushed ice. Pour unstrained into a mug and add more crushed ice to fill. Garnish with a pineapple frond, pineapple slice, orange peel and edible flowers (or whatever else you can think of).
It is hard to beat Jamaican rum and passion fruit, but the combination of flavor in this drink are both exotic and familiar. Many tiki drinks emphasize spices or rich coconut (or both), but here we have a refreshing balance of flavorful rum, tart fruit, sweet and bitter. The acid is a layered affair combining lime, sour passion fruit and pineapple. Yet, the passion fruit syrup is also sweet, getting a boost from the Luxardo maraschino and the Campari. The proportions are well-planned with everything present yet nothing overwhelms.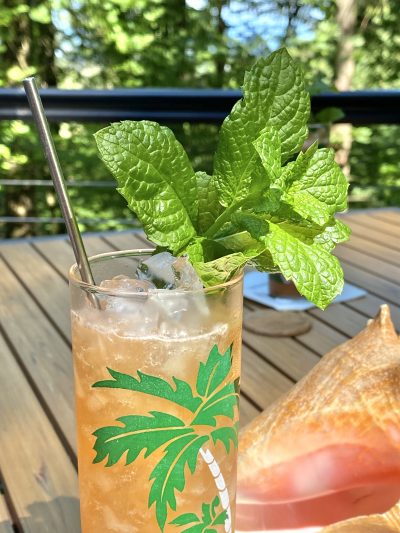 We are definitely reminded of the Riviera when we sip, but also the Jungle Bird. Campari's role here is subtle, but present. The bitterness often associated with it is scaled way back, but you can still detect it in the finish of each sip—an effect similar to the bitter you get from grapefruit. It's a wonderful drink that needs no substitutions, yet, we did improvise our garnish. Since we are not running a full-scale tiki bar at home, the suggestions as written seem a little outlandish, especially if you are using a canned, unsweetened pineapple juice. We are fresh out of umbrella picks, but we have plenty of mint. We do have an orchid, but we are protective of the blooms which are still slowly opening. So, without any fronds or fruit slices, we decided to let the mint alone cast its shadow over the ice and we aren't sorry one bit.
This cocktail is one that you can just roll directly into your tiki mug or a tall glass unstrained. We needed another half cup of crushed ice to properly fill our vessels which are vintage tiki glasses that we simply had to try with this recipe. These zombie-style glasses are available (SOLD) in the Summit Sips Shop. They feature three unique tropical designs, each with different scenes of various palms, flowers and other tropical landscape items in two-toned white and green enamel.