It might not sound like a very exciting drink this week, but chances are you have never had this drink properly prepared. A well-executed Whiskey Sour has the perfect balance of sweet and sour and highlights the wonderful flavors of good whiskey. It has a silky texture so it goes down easy and it's topped with a wonderful meringue. If that's not how you would describe a Whiskey Sour then you must be making it wrong.
The sour is an important cocktail classification. There are many examples. A typical sour cocktail consists of a base spirit, a souring agent and a sweetener. In this case, the base is bourbon, and the souring ingredient is lemon juice. Sugar (or simple syrup) is the sweetener. Did you think we were going to use a store-bought sweet and sour mix? You must know better than that by now!
Sour mix itself probably started with fresh ingredients that were pre-mixed behind the bar to save time, but like many bar products, it evolved into a bottle of chemicals and artificial flavors. It only makes sense since so many cocktails follow the basic sour formula. A margarita, for instance, is a tequila sour—lime is the souring component and triple sec is the sweetener. A daiquiri is really just a rum sour. You get the idea. The problem with the bottled mix (besides the fact that it isn't freshly squeezed juice) is that various sours call for different souring agents and sweeteners. You could compromise and make a mix that has both lemons and limes, but that's the whole point—you compromise. The better cocktail is one made to order with fresh ingredients. Oh, and there's one more thing: egg white.
Whiskey Sour
2 oz bourbon
1 oz simple syrup (1:1)
.75 oz lemon juice
egg white

Add bourbon, simple syrup and lemon juice to a cocktail shaker. Crack an egg and separate the yolk, reserving the white. Add the egg white to the shaker, seal and "dry shake" (without ice) vigorously for several seconds. Open the shaker, add lots of ice, seal and shake again until very cold. Strain into a rocks glass over fresh ice. Garnish with a cocktail cherry.
We used Maker's Mark bourbon for this recipe, but you can use any brand. Actually, you could use any whiskey you like, but a nice bourbon works the best. Don't be afraid to experiment. If you want to use rye, give it a shot. Do you like Jack Daniels? Why not? It's your drink, and you should drink what you love.
The simple syrup here is a basic one-to-one ratio of sugar and water. We always have a small bottle of simple syrup already mixed and stored in the refrigerator. If you are following along week to week, you probably want to make a batch of your own. As long as it's not being served to minors in lemonade or something, you can add a splash of vodka to make it last longer.
Once again we have fresh lemon juice. Don't use the bottled stuff, and don't use sour mix to save time. Trust us on this. Your best cocktails deserve the best ingredients. Fresh lemons are the way to go.
The Egg
It's not like we are turning all Rocky Balboa with this drink. Eggs have long been used as a protein in cocktails to add body and to create a beautiful, foamy meringue. Besides, we are not using the whole egg here—just the white, and you really only need a teaspoon at that. By adding a protein and giving it a dry shake before adding ice, you are starting an emulsion that will build up to a lovely espuma to top your drink. It will also create an amazingly smooth texture that you can't get without it. Before you turn your back on this part, you really should to set aside your concerns about raw eggs and consider this. Studies have shown that the chance of you getting a bad egg is about 1 in 30,000—not very likely. Second, you are adding this to liquid that contains alcohol which by it's very nature kills bacteria. Finally, the concentration of citric acid in this cocktail is not making it easy for anything to survive in the glass. If you are still worried about salmonella, you could wash your egg with warm soapy water first in order to minimize contamination from the outside of the shell. You could also use pasteurized eggs. It's certainly an optional component and the risks are extremely low, but if for some reason you cannot have eggs or you have a compromised immune system, you can skip this ingredient. Otherwise, try it at least once before you decide you don't want the egg white.
Separating the white from the yolk isn't as hard as it sounds. One popular method involves cracking it in two and pouring the egg back and forth between the half shells. Done properly, you catch the yolk with each pour and allow the white to slip by and into the cocktail shaker. You could also crack the egg and open it into a bowl, then remove the yolk with a spoon, or just pour out some white into your shaker. The method we prefer is to crack the shell down over the edge of a shaker tin. This opens a slit in the side of the egg. By holding the egg above your shaker, you allow some of the white to slip out through the crack. The idea is to keep the egg shell "closed" so it acts a bit like a strainer holding back the yolk while gravity draws out the white. It takes a few seconds for the white to slip out, and you may need to open the crack a little, but with a some finesse, it's possible to add the egg white and discard the rest without even getting your fingers dirty.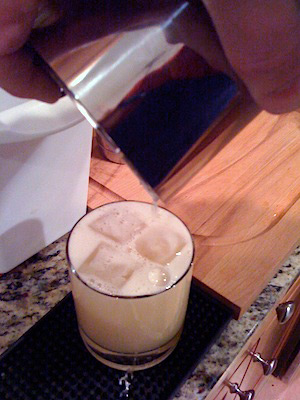 The Mime Shake
The mime shake, or dry shake as it's often called, involves shaking the ingredients without ice. This step is all about the egg white. It's a lot harder to build up a good protein emulsion with ice, so we want to give the process a head start. You need a good seal on your shaker to pull this off since pressure tends to increase inside. After a vigorous shake, open the tin, add lots of ice, seal it and really give it all you got. You are chilling the drink now and creating the perfect meringue at the same time. When you finally strain it over fresh ice, a thick foam will come out last. This is important to remember if you are making a double and pouring two drinks at once. Be sure to reserve space in each glass for the foam at the end.
Whiskey sours are typically garnished with a cocktail cherry, but we like to use Amarena Cherries. Otherwise, we often skip the garnish altogether and enjoy the foamy top as-is. Give this one a try and you won't be sorry. Let us know what you think in the comments below.