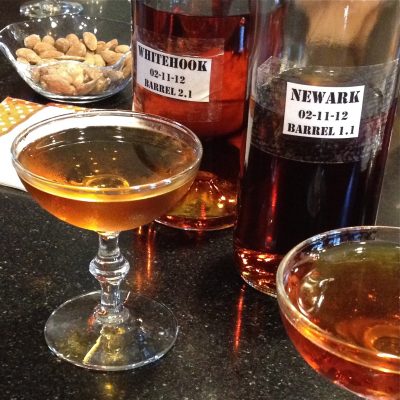 Click here for Part 1 to find out how this started.
Several weeks ago we featured a technique involving oak barrels and batched cocktails. In that post we described some of the details to help anyone get started aging their own cocktails in barrels. After many weeks of anxious anticipation (and a few sips along the way) we are finally able to share our results. Was it worth the wait? Are the cocktails really that good after sitting in charred oak barrels for over a month? Should you try this yourself? In a word, absolutely positively beyond-a-doubt YES.
You can see from the images that we reused empty bottles from the original base spirits and decorated them with the taped-on paper labels we made for the barrels while they were aging. We probably should grab a marker and write the dates that the barrels were opened and the contents dumped, but we were too excited. They will be consumed quickly anyway, but it might help to know the timing for each cocktail down the road as the barrels begin to lose their oaky influence. So, how did they turn out? Well, each recipe had a slightly different time in contact with the wood. It's subjective because you have to force yourself to take small samples every weekend to check the progress. Ok, it's not exactly torture, but after about four weeks of taste-testing, our Newark was finished—or at least by our judgement, it was really tasting delicious. At the same time, the Whitehook was still retaining much of its white whiskey backbone. We allowed that one to remain in the new barrel for about six weeks before its flavor mellowed. But when it did, a smooth, caramel and lightly toasted oak flavor settled in, and wow, is it delicious.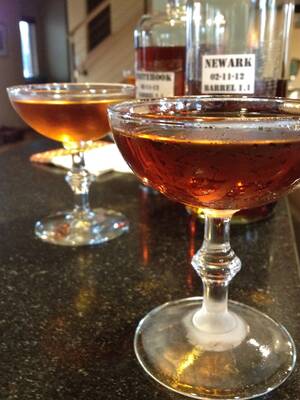 Finishing the barrel aged cocktail experiment is a pretty straightforward process. At this point, you have already opened the spigot several times over the weeks to test the progress. The only difference at the end is that you are dumping the entire contents into bottles. It can help to elevate the barrel over a vessel large enough to accommodate the full volume. You need to strain the cocktail to remove any bits of charred wood that may have fallen loose. Beyond that, all that remains is pouring your aged beauty into glass bottles. Hopefully, you saved your original bottles or you have something set aside for storage. Once you have your precious elixir bottled, it's time for a taste. It's the easiest drink you will ever make. Just measure out a few ounces, stir with ice and strain into a chilled glass.
Perhaps the Newark should have matured a little longer. It's hard to discern very much oak char or toasted notes in this one. Maybe this cocktail is just too complex to benefit from oak flavors directly, but this is still an overwhelming success because the aging process itself helped unite the herbal character of the Fernet-Branca with the maraschino, and everything tastes complex and amazing. You can't really tell that the base spirit is Applejack anymore because of how everything is so nicely integrated. If you have ever made lasagna and enjoyed the leftovers a day later, you know how time alone can affect and often improve the combination of flavors. That's what's going on with our aged Newark. Upon emptying the barrel, we immediately refilled it with a Negroni, keeping track that this will be an aged, Newarked Negroni when it's ready, and the next cocktail will have a unique lineage as well. We figured it makes sense to rotate to a gin-based drink in this barrel after whiskey just to keep things interesting.
The Whitehook's story is slightly different but equally compelling. If you recall, this is basically a Red Hook variant using white whiskey in lieu of rye. In our case, it's Buffalo Trace White Dog which is a predominantly corn-based mash distillate normally destined to become bourbon, but before it goes into the barrel. Of course, we aren't getting six years of seasonal transformation like they do in Frankfort. There, the whiskey ages and mellows moving in and out of wood each spring and autumn to build flavor. Using this product was a daring choice because of how strongly the corn flavors dominate. At 125-proof we didn't really know what to expect from a small, new oak barrel, so after four weeks we decided it needed more time. Our final taste test revealed that just two more extra weeks of aging had done wonders to reduce the overpowering aspects of the white dog. Its presence remains, but it is toned down to a more welcoming level. We can also observe color changes and the sweetest kiss of caramel and wood. It's perfect.
We are still looking over our inventory to decide what should enter the Whitehook barrel next. Perhaps a Boulevardier or a Saratoga? It will definitely be something with a brandy base. And when the time is right, we will once again use a fun experiment as a way to re-think old classics, transforming a cabinet full of half-empty bottles into a unique cocktail to enjoy with friends. Have you embarked on your own barrel-aged cocktail journey? We'd love to hear about it!