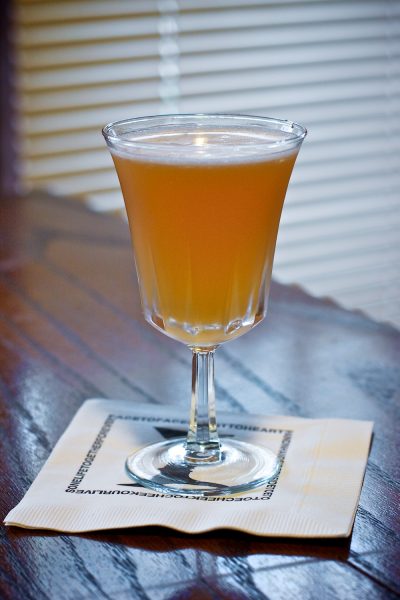 Here is an excellent tipple to add to your weekend repertoire. You might have seen this one appear on the menus at some of your favorite craft cocktail bars recently even though it's more than 80 years old. It dates at least as far back as Harry Craddock's Savoy Cocktail Book. This is one of those rediscovered recipes that seems to have legs—bars that were once excited about the Aviation and later, the Last Word are putting this drink into rotation. And they should, because this is a wonderful cocktail.
Of course, the Champs Élysées name is a reference to the fashionable tree-lined avenue in Paris, possibly because of the French ingredients. Certainly, a good French Cognac is going to help the flavor of this drink to a point, but spending too much on the base spirit will leave you trying to find where your money went in a mixed drink. The Chartreuse—in this case probably Green Chartreuse—is also French, so that might help explain the name.
As far as flavor goes, this cocktail is sometimes described as a bit on the sweet side, but it really comes down to balance. Controlling the sour can be a little tricky when you combine simple syrup and Chartreuse, but with a 1:1 syrup ratio you are probably safely beyond the sour end of the spectrum with the recipe here. However, it's the fresh lemon juice that is your wildcard, and the herbal complexity of the Chartreuse can distract you from getting the balance just right. The good news is that although it may seem more evolved than the Aviation or the Last Word, the Champs Élysées is going to taste fantastic even if it's a little sweet or a little sour. You can make the effort to adjust it or simply enjoy it however it comes out. Brandy as a base spirit works nicely in the background, not taking over the flavor the way a whiskey might. And the Angostura adds the spices necessary to bring it all together. In some ways, this is like a Sidecar meets the Last Word. We absolutely love cocktails with Chartreuse, so it's no wonder this recipe is among our favorites.
Champs Elysées
1.5 oz brandy
.5 oz Chartreuse
.75 oz lemon juice
.5 oz simple syrup
1 dash Angostura Bitters

Shake with ice and strain into a chilled cocktail glass.