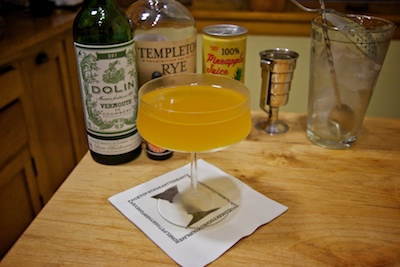 Named for the Algonquin Hotel on 42nd street in New York, this cocktail gained popularity after Prohibition as the hotel became known for the regular lunch gathering of Alexander Woollcott, Dorothy Parker, Robert Benchley, Harpo Marx and others. It's still served at the hotel today, but you don't have to go there to try one. Nor do you have to be a member of an exclusive roundtable lunch group. It's a breeze to make and the ingredients are easy to find.
Algonquin
2 oz rye whiskey
1 oz dry vermouth
1 oz pineapple juice

Stir with ice. Strain into a chilled cocktail glass.
According to David Wondrich, this drink is even better with a few dashes of orange bitters. He recommends Fee Bros. West Indian but also suggests using a squeeze of orange peel. There's definitely an improvement with the extra kick of orange, but you also have to pay special attention to the pineapple juice. Short of peeling and squeezing your own fresh juice, look for little cans of an unsweetened variety. One delicious option is available at Trader Joes. The yellow 8 oz cans are labeled, "If you juiced peeled pineapple you'd get what's in this can."
You'll sometimes find instructions for the Algonquin that call for shaking rather than stirring. Both techniques will chill the cocktail, but shaking makes the pineapple juice foam. That's not as attractive in the glass as a smooth and consistent result, so even though it takes a few extra turns of the wrist, conventioual wisdom suggets this drink should be stirred. You also sometimes see references to a cherry garnish which is fine, but we prefer the oil effect of a fat twist of orange peel (discarded).