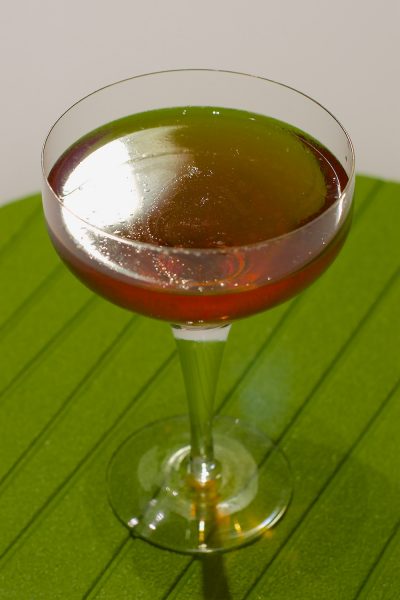 After a short break for the holidays we finally decided to check out the Multnomah Whiskey Library. It's not that we were putting it off—on the contrary—we have been meaning to stop in for quite a while. After reading several write-ups and hearing details from friends it was only a matter of time. Here at Summit Sips, we enjoy the occasional field trip, as it often inspires us to try something new. This was no exception.
If you happen to live in the Portland area and you like good cocktails, we can confidently recommend MWL. Their drink list isn't very long, but the talented staff can probably make anything. The real draw is their spirit selection which surrounds the bar and is carefully documented in a giant tome. The gorgeous space feels like an old-timey basement library with exposed brick, a fireplace, huge wood timbers, and shelves upon shelves of spirits. It's a little breathtaking at first, but once you settle into a comfortable spot and a bartender is mixing your cocktail at the cart he rolled up beside you, you start to feel quite comfortable.
On the menu was a classic cocktail we hadn't tried before. The Tipperary is a drink that, in name at least, dates back to the early 1900's. The offering we enjoyed is a combination of Irish whiskey, sweet vermouth and Green Chartreuse.
Tipperary (MWL version)
2 oz Irish whiskey
1 oz sweet vermouth
.5 oz Green Chartreuse

Stir with ice. Strain into a chilled coupe and garnish with a twist of lemon peel (discarded).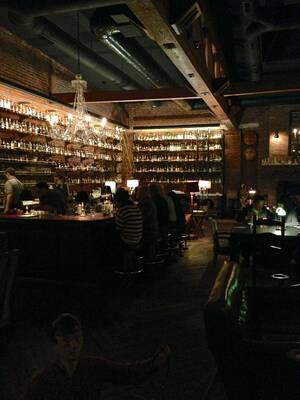 This recipe was documented in the Savoy and historically speaking, it calls for equal parts of each ingredient. Modern variations like the one we tried probably have better balance. You see, Chartreuse tends to easily overwhelm the other ingredients, and at equal proportions nothing else stands a chance. Of course, we love Chartreuse, but we also recognize that its herbal intensity needs to be respected.
The base spirit here is Irish whiskey. This presents an interesting challenge because Irish whiskey has a light, smooth flavor compared to say, American bourbon or rye. In fact, Irish is rarely selected for its mix ability because it gets lost. One could argue that this is the intention here—a smooth base, but this is all the more reason to adjust the proportions. We decided to make ours with Red Breast, a wonderful Irish whiskey, pot distilled, with a flavor profile that is fuller than most. We've read about others who have opted for more interesting variations, swapping some of the Irish for Scotch. We think that's a great idea!
The Multomah Whiskey Library mixes their Tipperary using Carpano Antica vermouth which is a good idea if you have some. We subbed Cinzano with success and adjusted their proportions slightly, pouring 2 ounces of Red Breast, 1 oz of Cinzano and a half ounce of Chartreuse (we could have gone to .75). It's a wonderful drink, reminiscent of the Greenpoint. Just make sure you give your lemon peel a good twist and rub the oils around the rim before you toss it. The lemon definitely plays a role here, but doesn't really need to be floating around in the glass.