Over four years ago we had the pleasure enjoying a few drinks at the Strip Club, a wonderful little steak joint in St. Paul, Minnesota. In addition to serving its delicious namesake New York Strip done several different ways, the place also has a wonderful cocktail program. In fact, the Strip Club blossomed in this regard relatively early in the Twin Cities cocktail scene. At that time, the number of places serving great cocktails in both Minneapolis and St. Paul could arguably be counted on one hand. Still, these guys were already veterans of house made tonic, bacon-infused bourbon, bitters and so on. One such masterpiece was a drink that is no longer on the menu called Figgy Pudding.
The original concept is based on whiskey that has been infused with butternut squash. This was combined with a muddled black mission fig plus a little of this and a little of that. Squash-infused bourbon sounds a little strange at first, especially when you see it on the back bar mid-process. But then you notice the bacon bourbon and bunch of other "experiments" and before long, nothing seems too out of whack. The recipe has you infuse an entire bottle of bourbon with a raw, medium butternut squash cut into 1-inch cubes. After one week, you strain out the solids and put the booze back in the bottle. We decided to put a little spin on the recipe by using roasted (burned, actually) butternut cubes, and instead of doing a whole bottle for a week, we packed the smallest jar we had and ended up making about 2 ounces in 24 hours—perfect for a single drink!
Figgy Pudding
2 oz butternet squash-infused bourbon (or rye)
1 splash of Cynar
1 splash Cherry Heering
1 splash orgeat
1 dried black mission fig

Pour the infused bourbon over the fig and muddle to break the fruit down into small pieces. Add the remaining ingredients and shake with ice. Double-strain through fine mesh to catch any fig seeds into a chilled cocktail glass. Garnish with a pressed fig coin.

Butternut Squash-infused Whiskey
Combine one 750 ml bottle of rye or bourbon and one medium raw butternut squash cut into 1-inch cubes. Allow squash to infuse the whiskey for one week, then strain out solids and store infused whiskey in an airtight bottle.
Done by the book, this makes a rich and delicious cocktail for the holidays. If you want to take it a little further like we did and save time, roast the squash first. This will bring out more flavors as it caramelizes. We wouldn't recommend burning it, but if that does happen, it can still work without giving an offensively burnt flavor. At least it worked nicely with our bourbon. We used Eagle Rare which already has a bit of oak char flavor. Perhaps a our shorter infusion overnight instead of a week kept the negative effects from overpowering.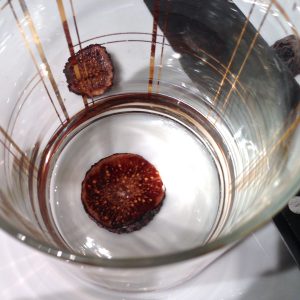 For the splash amounts, we measured a quarter ounce for each item. This seemed to be a good amount to balance the two ounces of base spirit, but it is a bit on the sweeter side. You also have to make sure your fig breaks open during the muddling process. You really need to squeeze it apart into pieces, otherwise it will simply bobble around with the ice in the shaker without adding any flavor at all.
To make the garnish, take another fig that has a nice round shape and slice a disc about a quarter inch thick. Press this flat under a glass or something, then carefully peel it off the glass with a knife. If you do this correctly you will have a nice coin that you can slide over the edge of the glass. Make a radial slit from the center through one edge and slip this over the lip of the glass.
Squash, figs, Cynar, cherry and orgeat all work well together with whiskey. The flavors build upon each other to make a drink that is rich and luxurious. We probably wouldn't want to have more than one of these in an evening, but it's definitely one worth having!