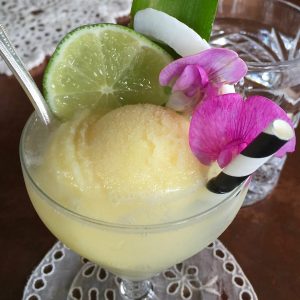 Remember back in college when you used to tell your parents you were going to meet some friends at "The Library", but instead of studying, that was the name of a local bar you were visiting? Well, last week, we finally made our way to Bible Club. Of course, it's not a place of worship—unless you place the vintage art of craft cocktails above all else!
Visiting Bible Club is like stepping back in time to an era when alcohol may have been taboo, but you'd be willing to break the law to experience a libation made just for you by a professional using the right tools, ingredients and technique. It's a speakeasy in every sense, with an unassuming residential facade that hides an authentic, antique atmosphere within. Attention is paid to every detail, from the 24k gold ceiling and antique decor to the use of period bar tools and glassware set upon lace doilies. Whether your drink selection is something with a deep heritage or a proprietary original, it is made with the utmost care and served by a staff that knows how to take care of their guests.
Pictured here is one of our selections—the Forbidden Island cocktail—an original recipe made using coconut fat-washed vodka, fresh lime juice, coconut cream and pineapple sorbet. We applaud the design of this drink. What could have been an overly-sweet tiki disaster is instead wonderfully tart on the outset yet balanced with each nibble of sorbet. Impeccable garnish makes this Forbidden Island—as well as the Westmorland bar itself—a worthwhile destination.