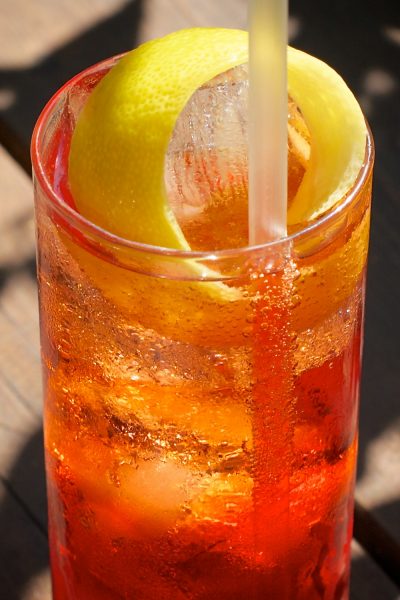 Some time ago when we featured the Negroni as our Drink of the Week, we included the Americano as a bonus recipe. Today, we'd like to give the Americano its due. It's a simple and light cocktail that works great as a late summer refresher. But despite its simplicity, we have to say more than just recommend this drink to beat the heat or to enjoy at a backyard barbecue. If you aren't expecting the bitter nuance that comes from the Campari you could be in for a bit of a shock. That's because most Americans are not used to Campari's bitter flavors (an ironic twist, considering this cocktail's name). These days, most carbonated beverages familiar to Americans are packed with high-fuctose corn syrup. However, anyone who already enjoys the Negroni or one of its many variants should  recognize that the Americano was the predecessor of more complex offspring and is one of many cocktails that make use of bitter amari.
During the late nineteenth century in Italy where production of Campari was just getting started, the unique apéritif made from an alcoholic infusion of fruit, bitter herbs and aromatic plants was enjoyed by locals with soda water. Naturally, Italian vermouth was added to compliment the herbal falvors and to tone-down the bitterness. When Prohibition was enacted in the United States, Campari was classified as a medicine, not an alcoholic beverage. Visiting Americans were requesting this drink in Italy so often that it became known as the Americano.
Americano
1 ounce Campari
1 ounce sweet vermouth
2 ounces soda water

Pour the Campari and sweet vermouth into a tall glass filled with ice and stir. Top with soda water and garnish with a lemon twist.
Once you get used to bitter cocktails, you will seek them out on better bar and restaurant menus. They offer something different and are a great way to prepare your digestive system for a healthy meal to follow. In the case of this drink the alcohol is low, affording you the opportunity to have one before you eat without interfering with a glass of wine later, or even a nightcap. It's light enough that you can sip one or two at a party and feel refreshed and invigorated instead of the alternative. It has just enough sweetness from the vermouth to balance the bitter, and the lemon twist really adds a fresh citrus touch.
There's a bit of a fad going on these days with some bars making Americanos or similar carbonated cocktails in large batches for on-site bottling. We've explored those details here. The recipe needs to be adjusted slightly to replace the dilution from the ice, but it's a fantastic way to bring cocktails with you to a party or to have something already chilling in the refrigerator. No mixing required!