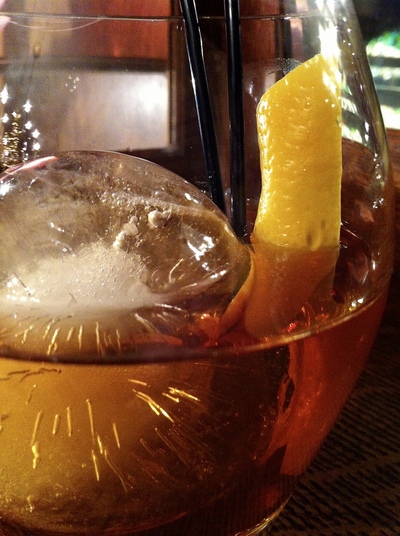 The Vieux Carré was first created in 1938 by Walter Bergeron, head bartender at the Hotel Monteleone which, in addition to housing the unusual rotating Carousel Bar, is considered the gateway to the French Quarter for which the drink is named. The Vieux Carré (French for "old square") is as much a fixture of the New Orleans cocktail scene as the Sazerac, and it's another reminder of the golden age of mixology.
If you are a fan of spirit-forward drinks, this is another one for your house menu. Upon making it, you might recognize that this is just a Saratoga sweetened with Benedictine. Ok, there's Peychaud's bitters too, and by this logic, any cocktail is just another version of something else. You could say it's like a Monte Carlo, or a variation of the La Louisianne, but these are all just riffs on the Manhattan. If you have done any experimentation with ingredients you know that sometimes the smallest adjustments can profoundly affect the flavor of a cocktail, even if you are just changing the bitters. Back when this drink was invented, that was the way most drinks were created. You'd make an adjustment to something popular and name it for your restaurant or hotel. It still happens today, and there's nothing wrong with that at all, and some amazing combinations have appeared as a result.
Vieux Carré
1 oz rye whiskey
1 oz Cognac
1 oz sweet vermouth
1 teaspoon Benedictine
2 dashes Peychaud's Bitters
2 dashes Angostura Bitters

Add over ice in a double old fashioned or rocks glass and stir. Garnish with a lemon twist.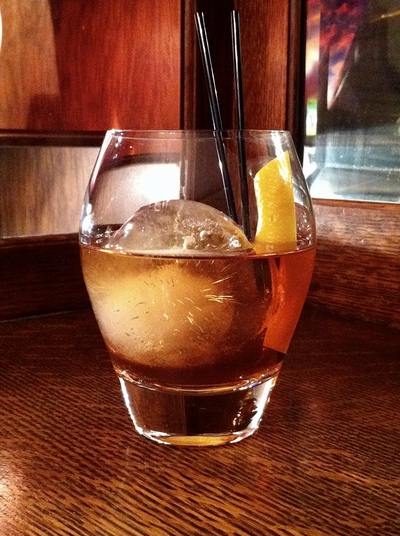 Swapping bitters is one thing, but the ingredient that makes us happy about this recipe is DOM Benedictine. Most people recognize Benedictine for the B&B Cocktail (Benedictine and Brandy), but we think Benedictine is underutilized, or at least under recognized. It shows up in classics like this one, but only occasionally in modern recipes. Its sweet and unusual flavor deserves more popularity as a modifier. Maybe if it appeared in more recipes we would have an easier time finding it in liquor stores. As it is, you can often find B&B on the shelf (a bottled cocktail) but plain old Benedictine is sometimes absent. You can make several different classics with Benedictine, including the B&B Cocktail, but with bottled B&B, you are limited to, well, the B&B.
The Vieux Carré is sometimes built over ice in the glass in which it's served, or stirred in a mixing glass and strained over fresh ice cubes. However, this is a great time to use a big chunk or sphere of ice in your favorite rocks or old fashioned glass. If you do, you really need to mix it in another glass. Stirring with smaller ice will chill the drink (and prevent your sphere from cracking) while providing the proper dilution before you strain it over your chunk. One large ice cube isn't going to melt quickly, and unless you mix it with smaller ice first, it will simply be too strong.