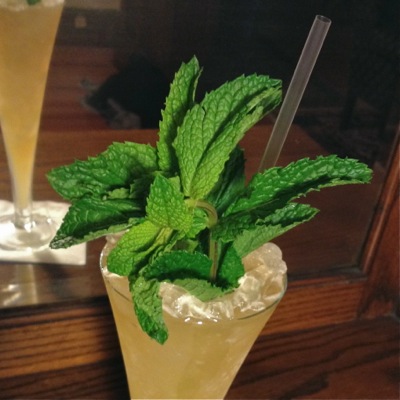 Every few years the first weekend in May brings a conjunction of two events—the Kentucky Derby and Cinco de Mayo. On some occasions the two events coincide on the same day. There are spans of time when that doesn't happen for over a decade, but every six years or so, May 5th lands on a Saturday. Each celebration is known for its respective cocktail. Derby Day's official drink is the Mint Julep, and what could be better for celebrating Mexican heritage than a Margarita? Even if thoroughbreds aren't your thing, it's hard to deny the luxury of sipping a Julep on a hot day in May, but you can say the same thing about the Margarita. So what's the solution? Make them both, right? In past years we have posted references and recipes commemorating one event or the other, but this year we decided to find a way to combine both cocktails into a single drink. The Albert Park Swizzle is the result, and although it may sound like a crazy idea, we think it turned out nicely.
Should you decide take advantage of the opportunity to make a proper Mint Julep on Saturday, chances are you'll use a delicious Kentucky bourbon as the base spirit. But history tells us that the earliest Juleps might have been made using brandy or even rum. The fact is, a Julep can contain any spirit, it just happens to be popular to make them with whiskey. An easy Mexican riff might be to simply use a fine aged tequila. It's a great idea, and one that is often explored, but we only had a bottle of silver tequila in our cabinet, so we decided to save the Tequila Julep until we could restock with añejo or reposado. Besides, there's no lime in a Julep.
Albert Park Swizzle
1 oz silver tequila
1 oz bourbon
.75 oz ginger syrup
.75 oz lime juice
.25 oz falernum

Shake with ice and strain into a tall glass filled with crushed ice. Swizzle to mix, then top with 4-5 dashes of aromatic bitters. Garnish lavishly with mint and add a straw.
Another drink that gets a little closer to the formula we are after is the Swizzle. Most examples use rum as the base like the Queen's Park Swizzle, and like a Julep, they are served over crushed ice. Mint can also play prominently in the Swizzle, but so does lime juice. Now we are getting somewhere! All we need to do is build a Swizzle using tequila. As luck would have it, such a recipe already exists. It's called the Delores Park Swizzle. However, this one calls for reposado tequila and also includes Amontillado sherry and ginger.
Since we only had silver tequila, we needed to add a bit more depth to the base. Sherry would take us a bit too far afield. The solution was right in front of us—we used bourbon. Combining equal parts of tequila and whiskey, adding a healthy dose of lime juice, and balancing it with ginger syrup and falernum, we had created a loose mash-up of two classics. The ginger gives everything a nice kick to bring it all together.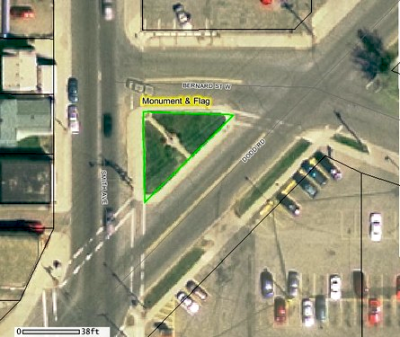 Our cocktail's name is significant for a few reasons. First, this drink is modeled after the formula for the Delores Park Swizzle which itself is named like the Queen's Park Swizzle. Queen's Park is a reference to Trinidad and boasts the largest traffic roundabout in the world. It was once a place where horse races were viewed. We knew we wanted our name to somehow follow suit. West Saint Paul's Albert Park doesn't exactly feature a roundabout (it's more triangular) but it is a traffic feature, located at the crossroads of Smith Avenue and Dodd Road. This park is nowhere near big enough to host a horse race. Actually, a horse would be lucky to even fit inside the park which was described by R.L. Ripley's Believe It Or Not as "the smallest dedicated park in the USA." It's also situated across the road from one of our favorite Mexican restaurants. Perfect!
The Albert Park Swizzle is shown served in a wonderful antique trumpet flute.