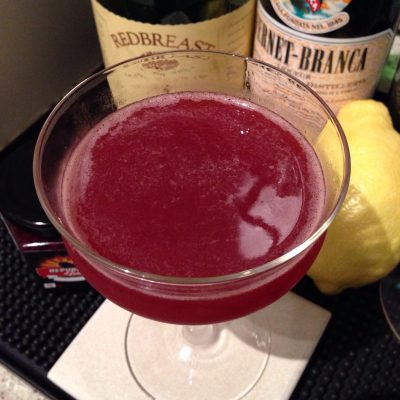 A few weeks ago we posted a cocktail called the Briar Patch that is flavored and sweetened with jam. Of course, we turned to our favorite local shop, Republic of Jam for the featured ingredient. It turns out that they host a quarterly Cocktail Club event to share drink recipes that highlight their products, and this weekend we are invited as guest cocktail creator!
If you have been to the shop in Carlton, Oregon or visited the online store you know that they carry unique culinary syrups in addition to jam. It's easy to get overwhelmed with choices when every shelf has something you want to try. The Cocktail Club events help narrow the search by providing some inspiration in the form of samples. This quarter the theme is fables and fairy tales, and one of the recipes we submitted for the event on Saturday is called the Red Hood.
Not to be confused with the Red Hook Brooklyn variant, the Red Hood is a reference to Red Riding Hood and features a jam unlike any we have ever tasted. Marionberry Espresso is an unexpected flavor combination that is absolutely amazing. This stuff is so delicious we could have built an entire cocktail menu around it.
Red Hood
2 oz Irish whiskey (Redbreast)
.5 oz sweet vermouth (Cinzano)
.5 oz lemon juice
.25 oz Fernet-Branca
2 tsp Republic of Jam Marionberry Espresso jam

Shake with ice and double-strain into a chilled coupe. Garnish with a marionberry or espresso bean.
Sampling the jam by itself reveals a dark berry richness on the verge of chocolate flavor that is somewhat difficult to describe. Immediately, we thought of cola or herbal amaro drinks like the Bitter Branch and knew we wanted to try it with whiskey. We chose Irish whiskey to support the jam rather than compete with it. Then came a boost from the sweet vermouth and a decision was needed. Was this going to end as a Manhattan riff or were we going to keep going?
We decided to push this into sour territory by adding lemon. The risk paid off. Not only does the acid offset some of the sugar, but the lemon brightens and invigorates the fruit allowing the berries to rise above everything. But still, something was missing. We tried a dash of Angostura but the familiar aromatic spices easily transform the drink and the marionberries get lost in the background. It is good, but not as good as what we tried next.
Adding Fernet-Branca was a daring choice that worked wonders. At just a quarter ounce the amaro's bitterness doesn't overwhelm, and the intense herbal qualities meld perfectly with the jam, vermouth, lemon and whiskey. In fact, this flavor profile is reminiscent of a Zarzamora served up instead of over ice.
Could we have tried a recipe with rum? Brandy? Tequila? Of course, and we encourage you to grab a jar of this and try making a great drink of your own. We'll post more recipes after the event.