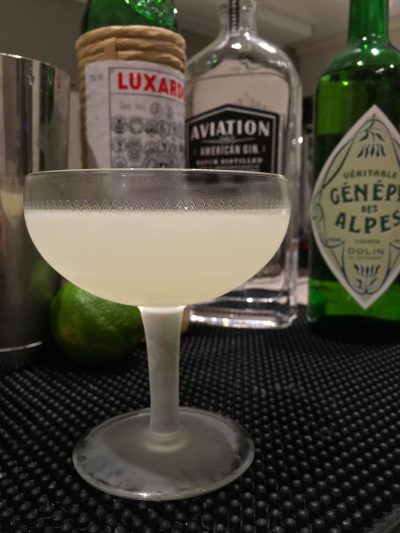 Several years ago we wrote about the Last Word cocktail. If you haven't had the pleasure, you really should give it a try, especially if you are already a fan of the Aviation. Besides having a name befitting any New Year's Eve celebration, the Last Word contains some of our favorite ingredients—Luxardo Maraschino liqueur and green Chartreuse. As we transition from the end of one calendar year to the beginning of another, we decided to post a similar cocktail that we recently tried at one of our favorite restaurants in Portland, Oregon.
The First Word cocktail was featured on the fall menu at Toro Bravo. A little research will reveal that it's not an original name. There are several First Word recipes out there and none of them resembles this one. We suspect that ever since Murray Stenson unearthed the Last Word—a revival that took the craft cocktail community by storm some years back—bartenders around the world have been creating First Words of one style or another hoping some of the Last Word's popularity would rub off. Although this version isn't exactly revolutionary, we knew the moment we saw the ingredients that even this simple substitution would work nicely.
First Word
1 oz gin
1 oz Genepy
1 oz Luxardo maraschino
1 oz lime juice

Add ingredients to a cocktail shaker with ice and shake to chill. Strain into chilled coupe.
If you are familiar with the Last Word, you know that it's an easy recipe to remember—equal portions of gin, lime, Luxardo and green Chartreuse. The First Word simply swaps out the Chartreuse and opts for Genepy instead. We wrote about this unusual ingredient when we featured the Le Coco cocktail from Little Bird. Genepy is actually similar to Chartreuse in many respects. It's a complex herbal liqueur with just a hint of anise. We are actually guessing on the proportions here, guided by what we tasted in the restaurant as well as the assumption that it's a riff on the other drink. It would be fun to serve a round of Last Word cocktails before midnight and follow up with the First Word after the clock strikes twelve!
We were glad to be reminded about Genepy and hope to make many more cocktails with it in the coming year. We would bet our bottle that your first word of the new year will be "happy", and that's how this drink makes us feel. It has the unusual distinction of being an herbal sour—boasting a combination of balanced citrus and herbal complexity from the liqueurs. The gin serves to elevate those flavors for a drink that celebrates the end of one year and the beginning of the next.