It's that time of the year when folks like to give gifts, and we know it's sometimes difficult to find the perfect item for the mixologist in your life. Regular readers know that when we aren't scrutinizing over menus at local establishments, we like to spend our time trying new and old recipes, testing commercial ingredients, creating homemade ones, and testing various tools and techniques. At the end of the year we usually put together a list of things we recommend. Be sure to check out similar posts from years past to get ideas about tools and other items we have found useful.
Travel Cocktail Kit
The past few months have allowed us to thoroughly field-test our version of a handy kit for mixing cocktails during commercial air travel. We think we have the best travel cocktail kit in terms of size and function. You can read all about it here and either make your own or support Summit Sips by shopping in our online store. The Summit Sips Travel Cocktail Kit includes everything you need to make cocktails aloft including instructions and details about recharging the kit for the return flight or for future travel plans. If you are traveling for the holidays these are easy to pack and make great stocking stuffers. Or, if you are dreading holiday activities, a gift for yourself can make any air travel a lot more enjoyable.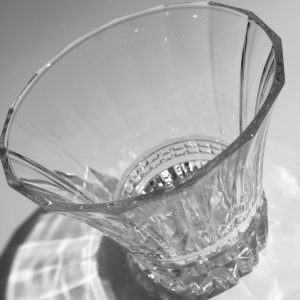 Glassware
If you are visiting our store you should definitely check out the glassware. After all, our glassware collection is why we started a store in the first place. Everything we sell is previously-owned, vintage/antique, but we aren't charging antique store prices. Those of us who have an interest in unique drinks appreciate serving them in unique glassware, but finding the right stem can be hit-or-miss. We've been collecting for years, so let our legwork save you the trouble of building a matched set or mixing it up with a bunch of different choices.
Spirits
Booze is always a good gift idea, but the choices can be a little overwhelming. We don't often make specific recommendations, but bottles are such a welcomed gift that we decided to devote some time to help you find the right stuff.
As a general rule, you can't go wrong with unflavored base spirits-they will aways be useful in cocktails. We recommend that you steer clear of flavored ingredients. Unique liqueurs are another story which we will address, but when it comes to vodka, gin, whiskey and rum-flavored spirits have limited uses and most can be made at home (often with better results) using simple infusions. Most cocktail enthusiasts will be able to use just about any base spirit, so find something within your budget. You will do better if you consider a specific cocktail recipe and choose one of those ingredients before grabbing some odd thing off the shelf. Your recipient will appreciate that you pay attention to their preferences, and sometimes a locally-distilled product will bring more smiles than a well-known name brand.
Brandy or Cognac
Over the past year or so we have had the opportunity to sample some great products that we feel very good about recommending in several different spirit categories. These may or may not be available in all areas, but we can tell you from personal experience that they are worth tracking down. For example, we don't hear enough about brandy and cognac, so when we had a chance to participate in a cocktail contest sponsored by Louis Royer, we submitted our raspberry shrub cocktail and called it Top of the Town. We have also enjoyed Louis Royer Force 53 VSOP in egg nog and many other classic cocktails. We have come to appreciate its high quality and versatility. A bottle of cognac and a few recipes will be an unexpected and much appreciated gift.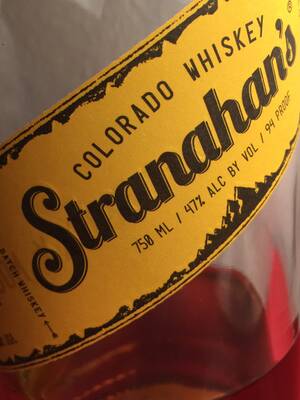 Rum
We recently had the opportunity to try Wicked Dolphin Rum which we will feature in an upcoming cocktail. It's a solid product from a craft distillery in Florida. The silver expression is aged in bourbon barrels, but they also made a limited reserve that was aged in sunken oak barrels that spent several days under the ocean to allow the pressure of the water to squeeze flavor out of the wood before filling them with rum. Wicked Dolphin isn't available in Oregon stores but you might be able to find it where you are. Small-batch distilleries seem to be popping up all over. For instance, Cannon Beach Distillery out on the coast and Bull Run Distilling Company right here in Portland both make excellent products. If you have a distillery nearby, find out if they have a tasting room and offer your friend a distillery tour as part of a gift.
Whisk(e)y
It's such a broad category with so much to enjoy that it can be hard to pick a favorite. Certainly there are fantastic bottles for sipping-we have always liked the delicious floral character of The Four Roses Single Barrel—a bourbon that is delicious, not that hard to find, and won't break the bank. But when it comes to mixing, rye whiskey is simply a must-have in any liquor cabinet if you want to stand a chance of reproducing the classics. It's no secret that we enjoy Templeton Rye with its smooth pepper-spice flavor. While the importance of rye cannot be overstated, it can also be fun to branch out. We have been enjoying Stranahan's Colorado Whiskey, a small-batch product made in the Rocky Mountains which sets it apart from all others. Given the small production runs, flavors differ from batch to batch, but they keep bringing home awards. This is both fascinating and fun. Our bottle comes from batch 137 and we love it, although we will need to replace it soon. Across the pond we also have Irish whiskey-one of the fastest growing spirit categories. Offerings from Teeling will surely make anyone happy. We also like Redbreast.
Vermouth
A nice segue from whiskey at this point is sweet vermouth. If you know someone who enjoys a good Manhattan, or maybe they like a Negroni, they will always need sweet vermouth. Sure, many brands of Italian vermouth are inexpensive and would hardly make a memorable gift, but this is a perfect opportunity to experience something wonderful. If your gift recipient has never heard of Carpano Antica Formula they could be in for a treat. Track down a bottle of this and you may never buy bottom shelf vermouth again. Carpano Antica is arguably the most delicious vermouth available. It doesn't last very long in our house because it tastes great all by itself, notable for its deep, luxurious vanilla flavors.
In addition to Antica, the Carpano brand also includes Punt E Mes which is equally complex and delicious, with an herbal bitterness that makes it a very interesting substitute in many classics that call for vermouth. In some respects, Punt E Mes is a gateway into Italian amaro. It also allows your recipient to mix modern riffs on the Manhattan including Brooklyn variants like the Red Hook.
Liqueurs
As a category there is a lot of diversity among liqueurs. Just about any flavor you can imagine (and some that you can't until you've tried them) has been made into a beverage. Some are fine for sipping, but we think of liqueurs more for their mix-ability. A liqueur may sit in the cabinet for years, unused until that one specific drink is requested. While your cocktail-loving friend might appreciate something obscure like that, they will get better use out of a bottle that is a bit more versatile. For example, we will always need to buy more Chartreuse. It's a high-proof liqueur that comes up again and again in classics and modern recipes. It has no real substitute, but Genepy can be a nice alternative with a slightly different flavor that is starting to become more popular in modern recipes. Luxardo Maraschino liqueur is another staple we will always keep on hand for drinks like the Aviation, the Last Word (also requires Chartreuse) and many others. For Mai Tai lovers, Pierre-Ferrand's Dry Curaçao is a wonderful product that we will be buying as long as they keep making it, and you can't go wrong with Cointreau for Sidecars and Margaritas. Honestly, there are just so many liqueur choices that we tend to buy them only when required to make a new recipe. This philosophy allows expansion of inventory by cocktail which can work nicely when giving someone a gift. Consider giving them the ingredients to make a particular recipe so they immediately have a drink they can make using your gift instead of handing over some random bottle they might not know how to use.
Syrups
We are constantly making syrups to sustain a diverse selection of recipes on our house menu. If you happen to be mixing a fresh batch for yourself, consider doubling the recipe and giving some as a gift. Ginger syrup is a favorite and so is real pomegranate grenadine, but you can also make orgeat, tonic, or falernum. Here again, it's nice to put together a cocktail recipe or add liquor to your gift in order to complete the thought with a complete drink. You can also just include a bottle of sparkling water since most syrups work as non-alcoholic sodas all by themselves. Homemade drink mixers make great gifts.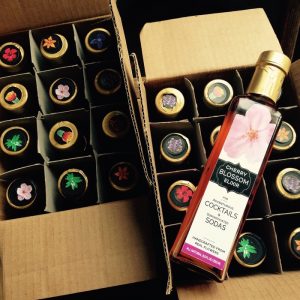 If you aren't interested in mixing and bottling but you like the flexibility that syrups offer for sodas and cocktails, try the vast array of products from Floral Elixir. Their all-natural elixirs are made from real flowers and are prefect for virgin mock-tails and can add a floral twist to just about any existing recipe. How about a Prickly Pear Old Fashioned, or an easy Lavender Lemon Drop? The addition of Jasmine, Rose or Hibiscus could take simple classics like the Collins to a whole new level. We also want to make a virgin Martini or Negroni using the Juniper Berry flavor. We are only just starting to scratch the surface of Floral Elixir's offerings which work equally well with cocktails, sparkling water or champagne, and even hot tea.
These are just a handful ideas from the past year that should help you with your holiday shopping. As always, we are glad to answer questions in the comments below. Happy Holidays!