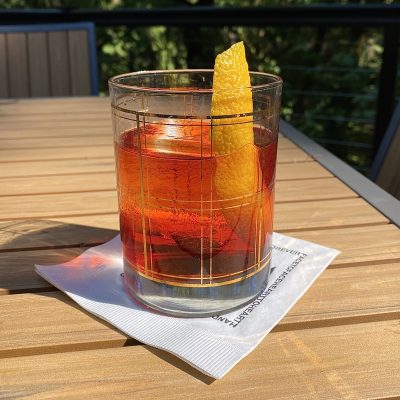 Negroni Week starts on September 14th and goes through the 20th which is just around the corner, so in addition to sharing some of the details, we wanted to feature a cocktail to represent just one of the the possibilities. A Negroni is the classic Italian cocktail that could be described as a more robust, fortified version of the Americano, a popular cafe drink in Italy that features Campari, the quintessential bitter liqueur. We have, of course, written at length about potable bitters and the Negroni itself while enjoying more that a few riffs on this basic formula, but this year brings unique challenges.
You see, during a typical summer, Negroni Week is an opportunity to celebrate this drink and to use the exposure as a vehicle to make charitable donations. Participating bars and restaurants would set aside a portion of the proceeds from featured Negroni sales for charity. That's not possible this year with the current COVID-19 restrictions, so in addition to postponing it a few months, Negroni Week is happening online this year and will support hospitality workers from bars and restaurants. It is a good cause with ambitious goals given the circumstances. Check out NegroniWeek.com to make a donation and to find out more.
Anyone who loves the bitter side of mixology will appreciate what we have assembled here, not just for the coming week, but for the entire year. Our featured drink is a fantastic creation from 2009 by Joaquín Simó at New York's Pouring Ribbons, but we have several similar cocktails listed below that will satisfy your exploration of this drink and some of its variants all week long.
The classic Negroni is appreciated for its flavor, but like many classics it also gets points for simplicity. As an "equal proportions" recipe, it is easy to remember even though most appreciators will have their own adjustments to the ratios. Here, Simó sticks with tradition and simply swaps one ingredient.
Kingston Negroni
1 oz aged Jamaican Rum
1 oz Campari
1 oz sweet vermouth

Stir with ice to chill, then strain over a large cube or sphere of ice in a rocks glass. Garnish with a large orange peel.
By swapping rum for the gin, this twist takes on a more luxurious, deeper flavor more akin to the Boulevardier. Yet, not just any rum will do. Named for the capital city of the island country, this version calls for Jamaican, and Smith & Cross is the authentic choice. It is bold, funky, strong, and deeply aromatic. It pairs wonderfully with a big vermouth like Carpano Antica Formula, standing up to complex flavors of chocolate and vanilla. We used Cinzano vermouth which shares some of the characteristics of its big brother, but is a lot lighter on the pocketbook.
Prepared in a mixing glass with ice, a good stir chills the mixture and starts the dilution so the flavors begin to meld. Pouring over a huge ice chunk ensures the drink will remain cold until the last sip, but big ice also minimizes over-dilution. Having said that, however, this cocktail gets better as you drink it! Maybe the submerged orange peel releases more essence as it sits, or the slow melt of the ice tones down the bitterness of the Campari. For what ever reason, the more we sipped, the more we liked it.
Alternatives
The classic Negroni can be transformed with any number of adjustments or substitutions yielding impressive results. Many of these variations can be served up or on the rocks and have been the basis of numerous posts over the years. We love these cocktails. Some are more adventurous than others, but they all find their roots in the Negroni.
Boulevardier—the bourbon Negroni
Left Hand—Boulevardier with cacao
Norwegian Negroni—an aquavit twist
Trident—Robert Hess's sea-faring variant that swaps everything
Cin Cyn—a Cynar riff
Fangs Out—like a Cin Cyn with Chartreuse
Jalisco Stroll—a tequila variant
Americano—predecessor to the Negroni
Eeyore's Requiem—a bitter-fest of rye, Campari, Fernet, Cynar, etc.
Hunting Vest—Charred-cedar infused Campari, etc.
Old Pal—Rye and dry