It's Negroni Week, so we are featuring another variation on the classic Negroni cocktail to expand your options as you enjoy delicious drinks that feature Campari. We also created a new collection category of similar cocktails so you can find these drinks easily now and in the future. Of course, not all Campari cocktails are Negronis. The original recipe is so basic (just equal parts Campari, gin and sweet vermouth), there are plenty of variations you can explore with different gins and vermouth brands. The simple foundation also lends itself to other recipes—many of them honest classics—that merely swap one or more ingredients.
The Old Pal is one of these, but before we get into the recipe itself, we want to remind everyone that the reason we celebrate the Negroni this week (we actually drink them all year long) is to participate in charitable giving. This year is important because most bars are not able to participate the way they have in the past. It is up to you, mixing these drinks at home, to consider a charitable contribution by visiting NegroniWeek.com to make a donation.
The Old Pal first appears in print in Harry McElhone's ABC of Mixing Cocktails in 1922 where he attributes the recipe to friend and sports writer William Robinson. Harry himself is credited with the invention of several classics including the similar Boulevardier. As Negroni variations go, this one is another whiskey version, but instead of bourbon, the Old Pal calls for rye. It also includes a shift to dry, French vermouth instead of the more traditional Italian red, but as we will see, the specifics of this recipe have been inconsistent over time.
Old Pal
2 oz rye whiskey
.75 oz dry French vermouth
.75 oz Campari

Stir with ice and strain into a chilled cocktail glass. Garnish with a lemon twist.
Our recipe as written uses modern proportions from Jim Meehan's PDT with a boozier emphasis on a flavorful base spirit. Yet, despite the heavy proportions, dry vermouth and toned down assertive bitterness of the Campari results in a cocktail that is much lighter than the Boulevardier. It lets the featured base spirit shine while still remaining reminiscent of the Negroni. We used Rittenhouse 100 proof and Dolin Dry, but you can go with any brands. You could also follow a more traditional Prohibition era 1:1:1 ratio as originally published, but there is more controversy about the history of this cocktail.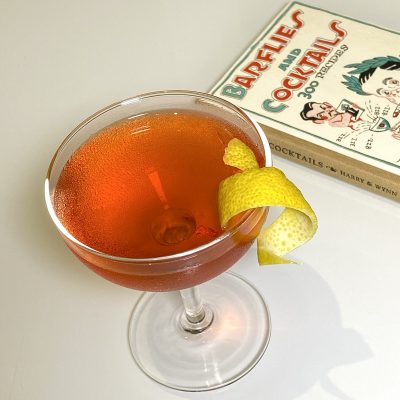 Five years after McElhone's ABC, he co-authored a followup book called Barflies and Cocktails that mentions the drink again, only this time it calls for Canadian whisky and oddly specifies "Eyetalian vermouth" which would change everything. The vermouth switch is universally ignored, but even Harry Craddock specifies Canadian Club in the Savoy some years later. Hey, if nothing else, the permutations of this drink just add to the fun of experimentation.
Who can say which version is historically correct, but rye is how this cocktail is typically executed today. Rye brings an edgy, peppery character to whiskey cocktails, usually so it can stand up to other complex ingredients. But with dry vermouth we are definitely leaning away from bold and bittersweet to something that is just barely bitter and pleasantly off-dry. Campari is, after all, a sweet liqueur, but this Old Pal is balanced in its lighter configuration in a way that opens up your perception to more subtle nuances of the base spirit.
The garnish is sometimes cited as an orange slice. That certainly aligns better with a Negroni, but we like the lemon peel. Some recipes even suggest skipping the garnish altogether, but the lemon scent and oils on the surface and rim are worth keeping. We honestly regret not trying this recipe sooner. It is just lovely, and this new friend is perhaps our favorite Negroni variation.
Give the Old Pal a try, and let us know what you think in the comments. To extend your enjoyment of Negroni style cocktails we have assembled a growing list of related posts and recipes here.