We were thumbing through the excellent book, Death & Co. and for some reason, this cocktail caught our attention. We immediately recognized the name, but it took a few moments to place it. Then we remembered, this is the name of the character played by Ian McShane on Deadwood, the fantastic western TV drama from 2004-2006 and more recently, reprised in the Deadwood movie. Nothing in this drink has any direct reference to the television show as far as we remember it, but Al Swearengen was the proprietor of the Gem Saloon, as was his real-life counterpart back in the 1870s, so it's fitting to have a drink named after him.
The sling is a historic category that predates the formal definition of the cocktail. It was originally comprised of sugar, water, a base spirit and maybe some nutmeg. It evolved to become basically a single-serving punch recipe, adding citrus, liqueuers and other fruit juices. Previous examples we have explored include the Singapore Sling, the Straits Sling, and the Oahu Gin Sling. This one was created by Brian Miller in 2009.
Swearengen Sling by Brian Miller, Death & Co. 2009
2 brandied cherries
2 oz bourbon
.5 oz Amaro Nonino
.5 oz Cherry Heering
.5 oz lemon juice
.5 oz simple syrup

In a shaker, muddle the cherries. Add the remaining ingredients and shake with ice. Strain into a highball glass filled with ice cubes. Garnish with a cherry on a cocktail pick and serve with a straw.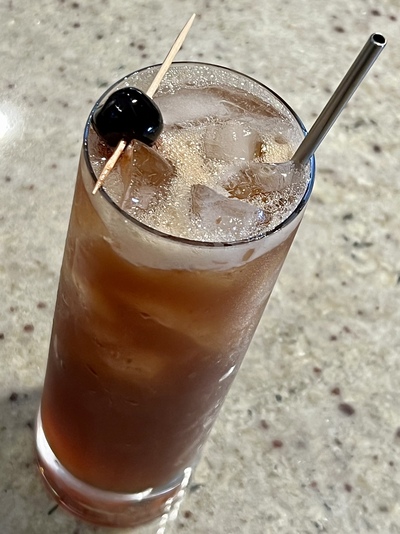 This recipe requires muddling brandied cocktail cherries. You can buy these from better liquor stores or online, but it is super easy to make them out of Amarena cherries. This is worth doing, since this is not the last cocktail that will call for a cherry garnish. Homemade brandied cherries are awesome and they last years in a jar unrefrigerated.
Muddling is a straightforward process by which you take stick of dead wood (see what we did there?) and use it to mash up some ingredient. We use a hand-turned rosewood muddler most days, but we also keep a cut-off rolling pin in our travel bar kit that we like even more. You can certainly buy a muddler, but get one with a flat business end instead of jagged teeth. In most cases, you will use the tool to press out juice, citrus oils, or to bruise leaves. Teeth just tear things apart unnecessarily. Also, you should never muddle through or on top of ice.
Once you have muddled the cherries into a think paste, add the other ingredients, shake with ice, then strain over fresh ice. We didn't bother to double-strain and few bits of cherry came through. Garnish with another brandied cocktail cherry on a pick for a nice presentation. One thing we have noticed with other sling recipes is that they are sometimes elongated with a splash of sparkling water. While the Swearengen could be given the same treatment, it's not really necessary. With a good shake and plenty of ice, you will have enough volume to top up a 10 ounce ice-filled Collins glass. The flavor of this drink is strong, and if we are honest, it's a little sweet—but that is the point. Back in the old days, a punch might have had one part sour to two parts sweet. A little carbonation might steer it back to center, but adding bubbly water would also dilute the bourbon which definitely comes through. Brian Miller originally called for Bulliet, but we used our regular mixing bourbon to make a fine rendition.
We resisted the temptation to reduce the amount of simple syrup as we have occasionally seen others do. The syrup, the cherries and the Cherry Heering bring out an intense cherry-whiskey flavor that we like. We don't really taste the Nonino at all in this drink, but we suspect it plays a supporting role the way a dash of cocktail bitters might by bringing all of the ingredients together. You may not like the fact that once you have squeezed some lemon juice and lined up the bottles there are quite a few "characters" in this ensemble. While it is easy to make, there are a lot of ingredients. However, like a well-played villain in any historic drama, you will enjoy the results more after enduring some initial discomfort.