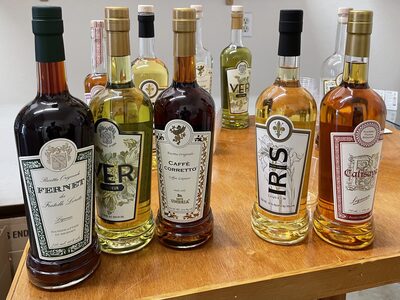 If you enjoy cocktails enough to mix them at home, chances are you have at least some interest in the ingredients required to make them. Whether it inspires you to make homemade syrups or it just fuels a passion to expand an inventory of your favorite whiskey—finding (or making) a bottle of something special for your latest recipe can be very rewarding. With distilleries popping up almost everywhere these days, the artisan source of that special ingredient is sometimes just a short drive away, and in many cases, the people behind local production are as excited to share their passion as you are to sample the results.
Whenever we take a road trip or visit someplace new, we make an effort to find local spirit makers. On some occasions, such as our exploration of the Kentucky Bourbon Trail, this is the whole reason for the trip. But most of the time we are just passing through, on our way to other destinations. If you happen live in a larger metropolitan area, you may not need to go very far at all. For example, Portland's east-side Distillery Row is host to several prominent local distilleries we have visited over the years, including House Spirits, New Deal, and Stonebarn Brandyworks to name a few. On the west side we have visited Bull Run, Freeland Spirits and Clear Creek. We have met the creators of Aria Gin, Oregon Arak, and the proprietors of Dogwood Distilling and Wild Roots. Outside the city there are worthy destinations in every direction, including Hood River Distilling, Pilot House in Astoria, Adrif in Long Beach, Washington, Cannon Beach Distillery, Stillwagon in Bandon, and Spiritopia in Corvallis. We are certainly forgetting a few and there are plenty yet to visit.
Spirit tasting is nothing new, but having the opportunity to meet like-minded people who turn their hobby—and your favorite ingredient—into a viable business is pretty exciting. Sometimes the smallest operation can be the most inspiring, putting some humanity behind a brand and connecting you to the product in ways similar to a chef working directly with a farmer. On a recent road trip we stopped in Eugene, Oregon to meet Andrea Loreto, President of Elixir Craft Spirits. Andrea has a knack for making incredible liqueurs and is responsible for resurrecting Calisaya, a historic Italian bitter aperitivo flavored with cinchona bark.
We had the opportunity to see first-hand how Andrea has taken his own recipes and methods and turned them into delicious products. Careful experimentation and proprietary filtration techniques have yielded incredible results. We first learned about Elixir after picking up a bottle of his Fernet as an alternative to the eponymous version everyone knows so well. Elixir Fernet is puzzlingly complex and bitter—similar in some ways to Branca, yet rewardingly unique in others. It works nicely served neat and makes a great La Yapa. One bottle that was unfamiliar to us was Iris, an impressive liqueur made using rhizomes of the Iris flower reminiscent of his native city, Florence, Italy. It is floral and herbal, with just the right balance of sweetness. It is delicious sipped neat but works just as well in cocktails. We have subbed it for Benedictine in a Monte Carlo with success. We also created this variation on the Last Word. Let's call it the Delayed Echo.
Delayed Echo
.75 oz gin
.75 oz Iris liqueur
.75 oz Luxardo maraschino liqueur
.75 oz lime juice

Combine in a shaker with ice, shake to chill, then strain into a chilled coupe.
Iris is subtle in this 1:1:1:1 "equals" formula sitting in for the bolder flavor of Chartreuse. The maraschino takes over a bit, but you can under-pour the Luxardo and add a little more Iris to adjust the character if you like. As written, this is nicely balanced and you still get the herbal and floral notes of Iris on the finish.
Andrea also recently made a coffee liqueur using locally-roasted Umbria coffee which is perhaps the most authentic coffee flavored liqueur we have tasted. But for us, the most noteworthy item in his portfolio is an incredible, herbal, green-tinted liqueur called Ver. We don't know how he did it, but Ver is an accurate replica of Green Chartreuse. Side-by-side taste tests will reveal differences, but Ver is just as tasty, and in a cocktail it works wonders. We have made the Last Word as well as the Chartreuse Swizzle using Ver and it's just amazing. It is also an incredible value as Chartreuse pricing is trending in the wrong direction.
Meeting Andrea and seeing his process, hearing about the excitement of growth, distributors, marketing—it changes the product for us. Now, every time we reach for Elixir bottles we will think of him and the hour he took out of his busy schedule to meet with us and show us around. It also inspired us to write about it because we know there are many "Andreas" out there with recipes to share and products to sell. We recommend seeking out similar local experiences wherever you happen to live, or like us, when traveling. If you do, we'd love to hear about it in the comments below.