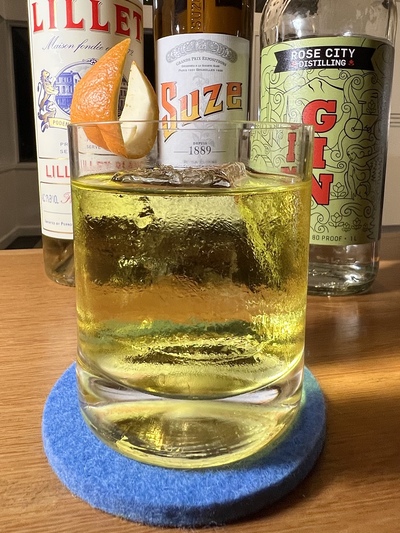 We would normally wait until Negroni Week to post this, but we like a Negroni anytime, and you should too. This version is a bit of a departure from the original in that it veers toward the lighter, drier side of the cocktail spectrum. It's still a gin cocktail, but Instead of sweet vermouth, the White Negroni uses Lillet Blanc. Once upon a time, Lillet was also a bitter ingredient, but today's expression is more of a refreshing aromatized wine aperitif that no longer has the cinchona overtones.
A Negroni is, of course, supposed to bitter, but instead of the ruby red sweet and astringent Campari, we have Suze, a gentian liqueur that has more of an earthy bitterness. Being a liqueur it is sweet, but not overwhelmingly so, and it pairs oh so nicely with Lillet you would think these two elements are made for each other.
The gin you use is always important, and with so many choices out there it does not make sense to be too prescriptive. Try this cocktail with a gin you like for excellent results. If you need some guidance, we recommend any local brand with floral and citrus notes. We chose Rose City gin, our local go-to, and we love it. Most modern craft distilleries take pride in their approach to this spirit, so it is hard to go wrong here. You could also use a basic London Dry (think Beefeater or Gordon's) for a more traditional approach. It's up to you, but we think the Lillet/Suze combination will pair nicely with anything.
The service is also flexible, as it is for the original. You can follow the recipe and strain into a chilled coupe, or serve it over a gorgeous, clear ice chunk like we did. Either option is fine, so long as you don't forget the garnish. The White Negroni usually calls for a twist of grapefruit peel, but you would be forgiven if you opted for orange. This is a delicious drink any way you do it.
White Negroni
1.5 oz gin
.75 oz Lillet Blanc
.75 oz Suze gentian liqueur

Stir with ice, then strain into a chilled cocktail glass and garnish with grapefruit zest.