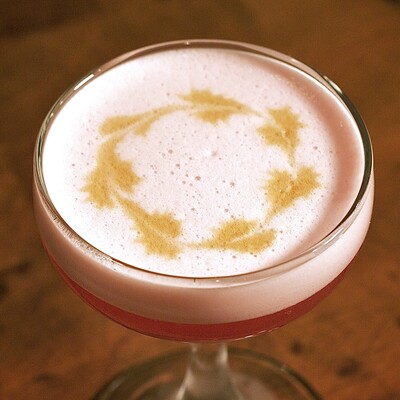 If any drink exemplifies the flavors that Campari has to offer, it's probably straight Campari, but besides that, our Drink Of The Week really shows off this wonderful bitter liqueur. It may be based on just a simple sour formula, but we are surprised how much we enjoy this drink. It's not very strong either which makes it a nice option before dinner.
We hope to feature other bitter cocktails as the year goes on, but figure this one makes a nice conclusion to the previous post about potable bitters. The fact that this drink is also sweet and sour makes it a bit more accessible for someone starting to explore bitter flavors. If you aren't already a fan of Campari, this is a great way to discover what all the fuss is about.
Campari Sour
1.5 oz Campari
.5 oz simple syrup (1:1)
1 oz lemon juice
1 egg white
7 drops orange bitters (garnish)

Add the Campari, lemon juice, simple syrup and egg white to a shaker, seal, and shake without ice for 30 seconds. Open the shaker, add ice and shake to chill. Strain into a chilled cocktail glass and garnish the surface with orange bitters.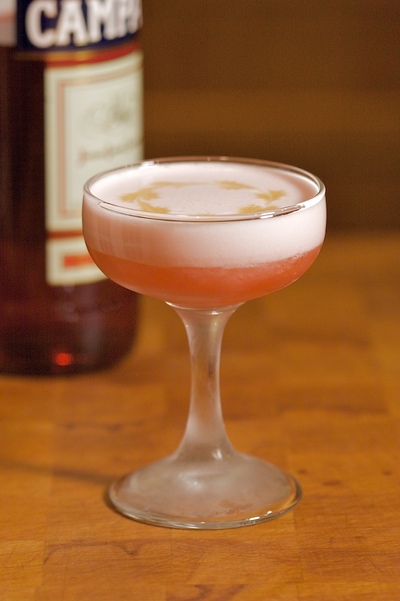 We first encountered this cocktail at a homemade bitters seminar at the Bradstreet Crafthouse. It incorporates so many concepts into a single recipe that it might be the perfect teaching tool. First, you have the basic sour formula which demonstrates the importance of balance. Then, there is the egg white which let's you explain how protein can be used to create a frothy emulsion. You can also demonstrate the mime shake (without ice), and how it helps build a healthy meringue before you add ice to chill the contents of the shaker. You can obviously discuss bitterness and how Campari is just one of many potable bitters. Finally, you can point out how the orange bitters garnish gives the drink an aromatic nose.
For such a simple cocktail, there is a lot going on here. Could you substitute Aperol? We don't see why not, but you might want to reduce the simple syrup a bit. You could also try using maraschino as a sub for the syrup altogether. This cocktail certainly has possibilities. Give it a try and let us know what you think.