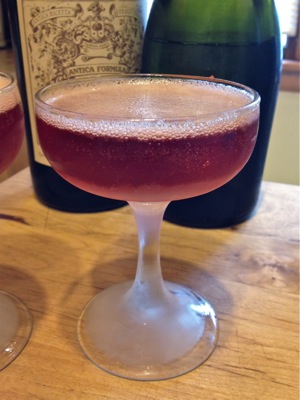 We have said it before and it still holds true: It's never a bad time to open a bottle of champagne. Although we like to keep a bottle of bubbly in the refrigerator ready for any event, sometimes all it takes is dinner at home. There's no reason it should only come out on special occasions. Whether you open a bottle of cava, prosecco, or real champagne from France, sparkling wine is great all by itself or as an ingredient for cocktails. Flavors vary, and so does quality and price, but you can make decent drinks with just about anything. We aren't saying you should drink the cheapest stuff you can find, but you don't have to break the bank either.
Over the years we have featured some popular uses for sparkling wine—the Mimosa, the French 75, the Seelbach—and the list goes on and on. For many recipes chilled champagne is used to "top off" a poured drink, or it can function as a fancy substitute for club soda. Other times, the wine itself takes the role of the base spirit as it does in the Kir Royale. The truest classic example of this is the unremarkably-named Champagne Cocktail. To make it, you simply toss a sugar cube into a wine glass, douse it with Angostura bitters, and cover with a full serving of champagne. We took a chance with an improved version of this basic cocktail on a recent visit to La Belle Vie. Our selection was, of course, a Johnny Michaels creation that took us on a contemporary journey through the flavors. Brut Nature is a cocktail that captures the essence of the classic Champagne Cocktail by deconstructing it into it's constituent parts.
Brut Nature by Johnny Michaels
1.5 oz cognac
.25 oz Luxardo maraschino liqueur
2 dashes Fee's Whiskey Barrel-Aged bitters
half glass of dry champagne

Add the cognac, maraschino and bitters to a snifter and swirl to combine. Serve with a small glass of chilled champagne.
Wait a second. This recipe is actually two drinks, right? Well, technically that's true, but you have to set aside convention and try to understand what Michaels is going for here. With a regular Champagne Cocktail you have the wine, sugar and bitters in one glass. Here, the idea is pull the flavors apart so you can trade tastes back and forth between the snifter and the wine glass to recreate the effect from two separate sources. It's a novel idea that's actually more fun than it sounds. First, you smell and taste the combination in the snifter. This this the sweetened bitters part of the drink. Yes, it has been fortified with cognac to give it greater depth and character, and yes, the maraschino liqueur makes it an "improved" cocktail as opposed to just sugar, but it serves to support and uplift the spicy character of the aromatic bitters.
As your senses are infused with all of that warm complexity, take a sip of the champagne. It's a little shocking at first, but then you recognize what's happening as the dry and prickly wine is balanced with sweet spices. Everything comes together in your mouth (and your brain) while you still get to enjoy the magnified flavors of each component. We really enjoyed deciphering this drink when we ordered it before we realized that Brut Nature also appears in Northstar Cocktails.
At the opposite end of the spectrum is a simple drink called the ChamPino created by Audrey Saunders of Pegu Club in New York. It not exactly your typical liqueur-modified glass of champagne. And yet proportionally, the wine is still the main ingredient even if it's not the standout flavor. This one leads you down a somewhat bitter path.
ChamPino by Audrey Saunders
1 oz Campari
1.25 oz sweet vermouth
2 oz champagne

Add the Campari and vermouth to a shaker with ice. Shake and strain into a chilled cocktail glass. Top with chilled champagne.
The ChamPino tastes like a bold, more flavorful version of an Aperol Spritz which is Aperol, prosecco and soda on the rocks. The thing is, Campari isn't as sweet as Aperol and it has a stronger bitter flavor, but in combination with a hefty dose of sweet vermouth it doesn't overpower. Depending on your vermouth you can get some incredible depth and character. We used Carpano Antica Formula. This combination reminded us of Punt E Mes which is itself bitter—this is just a little more so. The dilution from shaking helps tame the effect as does the sparkling wine. It's a perfect aperitivo and a nice change from other champagne cocktails.