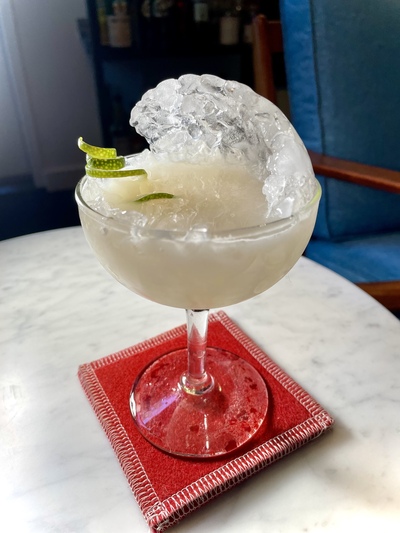 We've written a lot about ice over the years covering everything from crushed ice, molded spheres, long shards, and we've even written about techniques to make ice that is perfectly clear. We certainly like a good ice program, but up until recently, we had never made an ice "shell". This unique frozen style consists of an ice-lined goblet with a frozen hood—like a crystalized wave reaching over the cocktail. It was once a common sight at tiki bars and Polynesian restaurants from the mid-century, but over the decades it became somewhat of a lost art.
Of course, there are still plenty of references to ice shells in old menus—and more recently, in new cocktail books. We have often admired cocktails rediscovered by Jeff "Beachbum" Berry over the years, so his Outcast of the Islands was a no-brainer, but we have avoided drinks intended to be served in an ice shell. It seemed like we were not going to make a faithful version, and then we stumbled across a YouTube video posted by Tim "Swanky" Glazner that describes how to make the shell. Do you need to do this to enjoy the drink? Of course not, but since Jeff Berry served his Outcast of the Islands at Latitude 29 in a goblet with an ice shell, we wanted to give it a try.
Outcast of the Islands by Jeff "Beachbum" Berry
1.5 oz gin
1 oz lime juice
.5 oz ginger liqueur
.5 oz cinnamon syrup
.25 oz orgeat
6 drops pastis (i.e. Herbsaint, absinthe)
.5 oz ginger beer

Shake all but ginger beer with ice to chill. Strain into a chilled glass. Top with ginger beer and garnish with lime peel.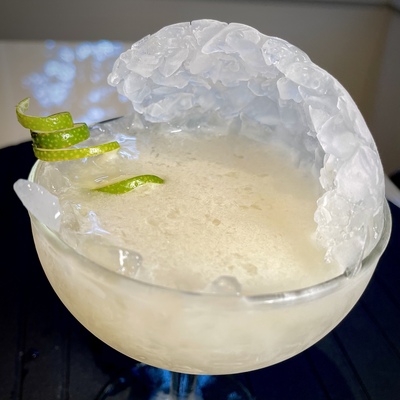 For the shell, we opted for refrigerator cubes (half-moon shaped) that we hand-crushed in a Swing-A-Way ice crusher similar to this vintage Metrokane contraption. These deliver fairly uniform pebbles that work nicely in tiki drinks and juleps. The video linked above proves that it is possible to make a shell with fine and coarse ice, but powdery snow can be just as challenging as big refrigerator door crushed chunks. Our ice was fairly small, but we could have achieved similar results using a Lewis Bag or even a blender.
In addition to the size of the ice, the goblet is crucial. You want to use something spherical such as this antique style, or according to the video, the popular Libbey Georgian is ideal. We selected a cocktail glass and packed the bowl with a single layer of crushed bits using a julep strainer to help pack them down. Then, after a quick chill to set this shape, we coaxed the hemisphere up and past the glass rim. The basic technique is to slide the frozen shell out of the glass part way, giving it a quarter revolution above the rim, and then fill in the space this reveals with more crushed ice. Freeze it a second time and you are ready to go.
Now for the cocktail. The ice was truly a distraction, because this drink is so good we should have ignored the shell and started enjoying this recipe years ago. Cinnamon and ginger work so nicely with even the most basic London dry gin—and how often do you get to make a gin-based tiki recipe anyway? The hint of orgeat gives this cocktail a creamy almond smoothness, and a few drops of absinthe, common in many Beachcomber classics, brings the botanicals together. We hope to make more of these from now on—with or without the ice shell. But the shell does add a nice touch!
Admittedly, making the ice shell is not something everyone will try, but if you can get the right glass, it is a presentation that few will forget and totally worth the effort. Yes, you are going to spend some prep time and you will need to clear some space in the freezer for the glasses which won't last long (freezers are dry, and the ice will sublimate) so use them or lose them. Next time, we will probably shake this drink and serve it like a Mai Tai. It is just too good to pass up because of ice challenges. Try the Outcast and let us know what you think, and if you give the ice shell a shot, we want to hear about it!